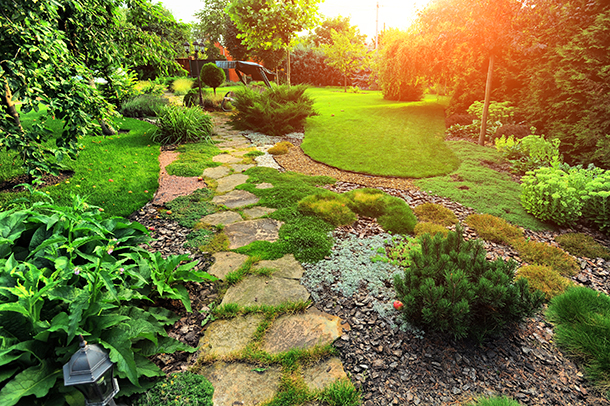 In many neighborhoods, your lawn is the first thing a neighbor will see before they enter your home. A well-groomed yard often symbolizes a certain level of societal status and neighborliness. Other times, it's simply considered a welcoming extension of a home's interior.
Since caring for a lawn, yard, or landscaping can take a lot of time and resources, what are some environmentally-friendly ways to truly "go green?"
Go Native
Do some research into what is actually growing in your yard, and make sure all vegetation that you are planting is native to your region. Not only will will native plants and grasses need less water, but they will also require fewer nutrients and fertilizers to keep them flourishing. Furthermore, native vegetation will better support and attract wildlife, promoting a healthy ecosystem in which you live. There are many resources that can offer help with learning more about good plant options for where you live. The National Wildlife Federation has a to-do list for preparing your "wildlife garden" as well as a Native Plant Finder tool where you can enter your zip code to find plants best suited to your region.
Use Natural Alternatives
Synthetic fertilizers, pesticides, and herbicides available for lawns are carried away in run-off water to our rivers, lakes, and all other bodies of water. When these chemicals and excess nutrients enter our waters, they cause unnatural algae blooms disturbing ecosystems and even making waterways impassable. Luckily, there are healthier alternatives to chemical fertilizers and pesticides. Organic options include leaving grass trimmings from mowing in the yard to help growth, using compost from dead plants and food, and choosing other natural fertilizers from animal waste. Soil choice can also play an important role. Lawns using clay soils can be watered less frequently because clay soils get water well soaked into the ground, absorbing moisture better than other soils. This helps grass roots grow down towards the moisture, which also can assist your lawn in surviving extreme heat or drought.
Be Smart About Water
According to the Utah State University Extension, 30-60% of urban water is used to irrigate lawn turf, depending on the region. Try new watering techniques to save resources, such as watering earlier in the morning later or in the evening, so that more water is absorbed and less evaporates in the heat. Plants and grasses grown in your yard that are not native to the region require much more water and care than local vegetation, which is another reason to "go native."
Try Greener Lawn Mowers
The emissions from using a gas-lawn mower for one hour are roughly the same as driving a car 40 miles. This equipment emits high levels of hydrocarbons, carbon monoxide, and nitrogen oxides that contribute to ground level ozone. A reel or "manual" mower is the most eco-friendly alternative that cuts the grass as you push it. Although this kind of mower may not be effective for very large lawns, you can use a corded or cordless electric mower, which will not create harmful emissions on your property. If for some reason you still need a gas-powered mower, some of the newest models are designed to release fewer emissions, and you can scout out this feature when shopping around.
By opting for a healthier landscape outside of your home, you'll be using fewer resources and supporting a strong, natural ecosystem… And, who knows, you might even make your neighbors "green with envy."
CleanChoice Energy works to protect the environment, fighting climate change by supplying clean, renewable energy. We make sure that all the energy our customers use is replenished on the grid with 100% wind and solar power, reducing the impact on our planet every day. Learn more about how you can make the switch to renewable energy today.