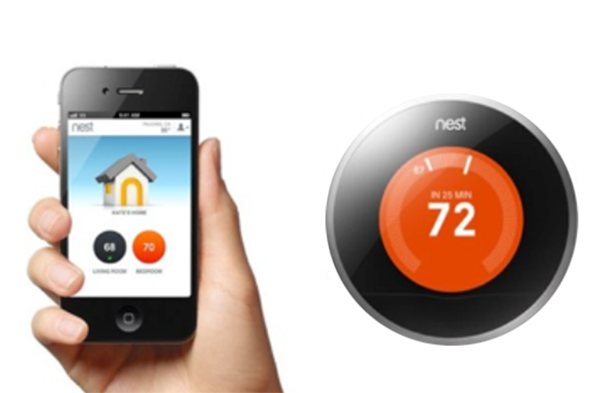 Today's smart digital thermostats learn your comfort preferences and adjust as you come and go. They know when you're home and when you're not. You can control them from your smart phone, and you can geek out with loads of data about how you're using energy.

What makes a thermostat smart?
Smart thermostats learn from experience. They figure out when you're home (or not) and adjust themselves automatically without your need to intervene. They also allow remote management and programming from a mobile app or Web browser and provide energy-use data in real time. So paradoxically, they're good both for people who never want to think about their comfort settings and for those who love to interact with their gizmos.
What are the benefits of smart thermostats?
Save on your energy bill - The average household spends more than $2,000 a year on energy bills, nearly half of which goes to heating and cooling. So cutting that bill can be a big deal – Energy Star says you can shave $180 a year simply by properly setting your thermostat.



Adapt to your daily routine - Not only do smart thermostats learn your routines, but they anticipate them and adjust to them over time. Some even use sensors and your phone's location to tell if the house is occupied or not. And you can tweak your settings anywhere with a Wi-Fi or cellular connection.

Turn up the heat, away from home! What if you plan to return home earlier or later than usual? With the smart thermostat's remote-control capability, you can turn up the heat (or down in summer) from your mobile phone or tablet. The app knows how long it takes for things to heat up or cool down so that you don't waste energy on an empty house.

Know your energy usage - Smart thermostats also give you plenty of information to take control of your energy use. From the remote interface on your mobile device, you can see how much energy you're using to heat or cool your home. And you can play with settings to see the results immediately. Many devices keep track of your energy usage over time, providing reports that allow you to see your usage patterns and make adjustments.

Look stylish - Finally, it must be said that some of the devices simply look cool. The Nest thermostat's bright face, for example, lights up when you walk in the room to display either the temperature you set or the time.
Which Thermostat is Right for You?
Top 10 Reviews compared a selection of smart thermostats and chose the Nest Learning Thermostat as their top pick. Their second- and third-place honors went to the Ecobee3 and the Honeywell Lyric, respectively. All three tout do-it-yourself installation and come with set-up tutorials, email and phone support, and online forums.
Cnet.com also rated the Nest thermostat tops, with an overall score of 8.7 out of 10. But competitors such as Ecobee and Honeywell are starting to narrow the gap.
Is it worth buying a smart thermostat?
In the end, only you can decide whether a smart thermostat is a smart investment. If you already have a programmable thermostat, regularly monitor and adjust its heating-cooling schedule, and set the thermostat to recommended levels, you probably won't save that much more with a smart thermostat. But if you don't have a programmable model or you want more control, interactivity and data, a smart thermostat may make sense. By using a smart thermostat properly, you can ensure you don't spend money on wasted energy. And by using less energy, you are creating a healthier planet.