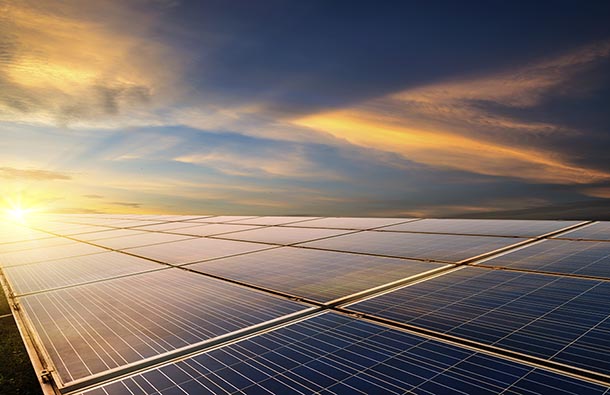 The United States this year reached the milestone of 1 million solar systems installed. And that number continues to grow:
Solar installations jumped from only 1,000 in 2001 to 1 million in 2016.


Solar systems are expected to rise to 2 million in 2018 and 4 million by 2020.


While energy from the sun still only supplies about 1 percent of all the electricity generated in the United States, it accounted for 26 percent of all new electric capacity added in 2015.
Lower costs, greater incentives drive solar

Behind the rise in solar installations are lower costs of installation, valuable tax incentives and supportive government policies.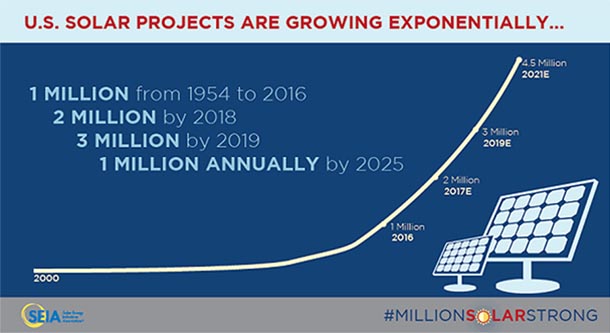 Installation costs have fallen by more than 70 percent over the past decade, mostly due to dramatic efficiencies that have lowered the costs of solar panels by two-thirds in five years.
Congress in 2015 extended a long-term 30 percent federal investment tax credit through 2019, making solar investments more affordable and predictable.
Finally, many states have put in place supportive policies to encourage the development of renewable energy. California, a leader in clean-energy investments, requires the state's major utilities to source one-half of their electricity sales from clean, renewable sources such as wind, solar, geothermal and biopower by 2030. Last year, Hawaii passed a bill requiring the state to get 100 percent of its energy from renewable power by 2045. Find energy incentives in your area by searching the Database of State Incentives for Renewables & Efficiency (DSIRE).
Economic, health and environmental benefits
Whether you buy your renewable energy from clean energy suppliers or you generate it yourself, your individual contribution can be part of an impressive collective impact.
Consider these solar energy benefits:
The greatest societal benefit of renewable energy of course is that it's a clean, carbon-free resource. Fossil fuels such as coal, oil and gas must be extracted from the earth and burned, releasing heat-trapping greenhouse gases into the atmosphere. By using clean sources of energy such as solar and wind, you shrink your carbon footprint, contributing to a healthier planet.
No roof? No sun? No problem.
You don't need to install solar panels or live in a sunny area to be part of the growing solar community. Simply make the switch, and CleanChoice Energy make sure all the energy you use is replenished on the grid with 100 percent clean wind and solar power.
The country is on the march toward the increasing use of renewable energy, and at CleanChoice Energy, we're happy to be leading the parade.