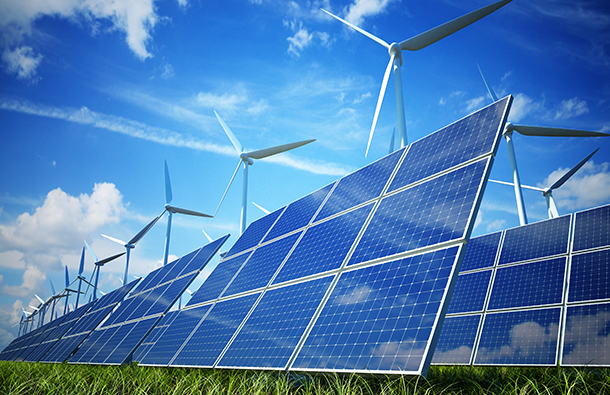 Renewable energy sources are on the rise across the country, quickly growing in our energy market. Solar and wind power are two of the most prominent renewable technologies. It is important to understand these two energy sources, and the differences between them, as they continue to expand in the United States.
How Solar Power is Generated:
Solar Panels you may see on rooftops and in open fields contain photovoltaic cells that take photons from sunlight and turn them into electrons. This begins the process of transforming sunlight into electricity. These electrons produce direct current (DC) power that is then sent through an inverter to be transformed into alternating current (AC) electricity. This electricity is then sent to the grid to be distributed to your home.
Pros of Solar:
In the past 10 years, the material costs of solar have gone down by 60%, making the expansion of solar power a hot topic of interest right now.
Solar panels can be installed on rooftops and are completely silent, which means that they can easily be set up in metropolitan areas.
Cons of Solar:
Solar panels take up significant amounts of flat space on land, whereas wind turbines are much more vertically inclined and take up less land.
Solar panels only work when the sun is out, and therefore the capacity to generate electricity is only available during daylight hours. Solar power generated during the day can be stored for later usage. Luckily, new developments in solar storage are being made to make it cheaper and more efficient.
How Wind Power is Generated:
Wind turbines work when wind blows the blades in a circular motion, turning a shaft inside the turbine. This important first step is how wind generates mechanical energy. The turning shaft is connected to a generator in the turbine that generates electricity, which then travels down the turbine to the ground. Before the power can be distributed to your home, it must go through a transformer to increase the electric voltage in order to make it transportable. This electricity is then picked up by transmission lines and transported to the electric grid where it will arrive at your fuse box. The fuse box will lower the voltage to make it a safe resource to power your home.
Pros of Wind:
Since wind turbines take up less flat land space, they can be built on farms with leasing agreements, which can help boost economies in rural areas that could use it the most.
Although solar is a hot topic right now and has been growing faster than wind, it is very far behind wind power's capacity. In 2015, total solar generated was 21.6 million megawatts of power, whereas wind power generated was 190.7 million megawatts. This is important to recognise, as the capacity for wind power in the United States is almost 10 times that of solar right now.
Cons of Wind:
Wind turbines are very loud, and are therefore undesired in residential or highly populated areas.
Furthermore, the windiest areas of the country with the most turbines are in remote areas, which is what makes the transportation costs of wind high as the energy needs to travel a farther distance.
With increased adoption and technology innovation, the future for solar and wind is bright as they continue taking up greater portions of our energy grid, and offering better alternatives to carbon polluting sources. CleanChoice Energy uses 100% clean, renewable sources from solar and wind. Take a look at how we get our energy from Twin Ridges and Rail Splitter Wind Farms, and learn how you can make the switch to renewable energy today.