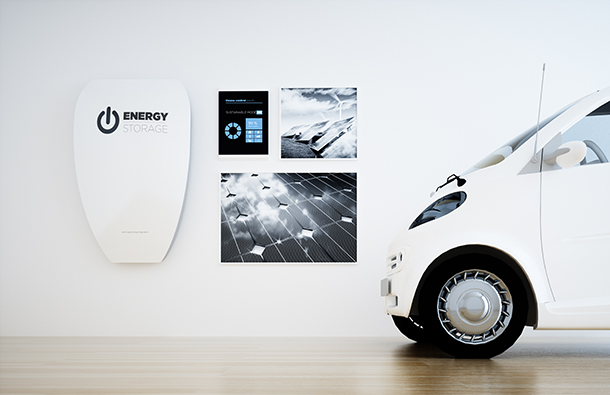 A factor closely tied to renewable energy like wind or solar is storing excess energy for later use, like during peak energy needs. Given the reliability of renewables, and the lack of sustainability for fossil fuels, the development and use of efficient, advanced energy storage is a hot topic in energy innovation circles.
Just what are the advancements in batteries, what are residential "home batteries," and how is all of this advancing our clean energy future? Read on, as we explore and answer these questions...
A Brief History of Batteries
Battery technology has improved dramatically in the last four decades. The principle of the lithium-ion battery was discovered in 1979, but it was only considered an interesting academic theory, for the most part. It wasn't until the 1990's that the push for long battery life became a major priority for technology companies like Sony, which first produced a commercial version of a lithium-ion battery for portable devices.
Since then, due to the relative availability of fossil fuels—and reluctance to change from an established energy infrastructure to a cleaner new one—societies have not been very motivated to solving the challenge of how to store energy. However, a sense of urgency to create solutions is real. It's now commonly known that fossil fuels are an increasing threat to human and environmental health, and that renewables are the wave of the future. With these realities, more scientists, researchers, academics, and business innovators see the value of new battery technology solutions.
In past five years, battery development efforts have taken off spectacularly. With the cost of producing a battery by almost half since 2013, investors are putting a lot of money toward developing batteries that are high quality, high performance, and have multiple applications (think both EV cars and renewables).
New Technologies, Including Home Batteries
Ask anyone currently involved in advancing batteries, and they'll tell you it's an exciting time to be a part of something that will have major impact on energy storage capabilities now and for the future. The current batteries most of us use today—lithium-ion batteries—are reaching their theoretical upper limits, inspiring researchers to pursue other options.
One option is to improve on the lithium-ion model, but use a different metal. These include magnesium, calcium, and zinc batteries. Another option is to change the way the chemistry of the battery operates; like lithium-sulfur batteries. A third option is a liquid-state or "flow" energy—like the seawater battery that's garnering so much attention.
Perhaps the most famous battery in the world is Tesla's home battery, the Powerwall. Introduced in 2015, the Powerwall home battery can store excess energy generated by the wind or sun and keep a home's power supply constant. This is just one of a growing number of companies producing batteries being marketed to homeowners, business owners, and battery-operated car drivers.
On the utility scale, Tesla just powered up the world's largest lithium-ion battery in South Australia. If necessary, it could power 30,000 homes. But more typically, its role will be to even out the power supply—providing boosts where they are needed, and storing excess energy.
Looking ahead, a recent Bloomberg New Energy Finance report confidently predicts that, due to infrastructure developments and technology advancements, the United States will lead the world in battery innovation. Those innovations will extend the reach of clean energy like wind and solar across the country, and likely across the world. Exciting times indeed!
CleanChoice Energy's mission is to make clean energy available to everyone. We supply customers with 100% pollution-free clean energy from wind and solar power. Learn how you can make the switch to clean energy today.