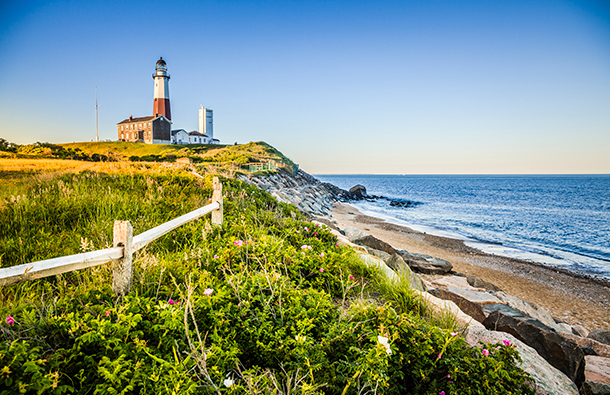 When you think of the beach, wind and sun quickly come to mind for many—and maybe sunburns. You might not instantly think of the wind and sun as what's powering the homes and businesses located there.
But that's exactly what New York's beach towns of East Hampton and Southampton have resolved to change. In 2014, East Hampton promised to source all its electricity from renewable sources by 2020. Earlier this year, Southampton made the same promise but set the timetable to 2025.
The Challenge of Beach Towns
The Hamptons have challenges unique to many beach towns: their population triples in the summer, many of the houses there are second homes, and climate change could seriously alter the landscape by reducing coastlines from rising sea levels.
This potential scenario is part of why they are working so hard to move to renewable energy. Thanks to improvements in energy efficiency, the energy demand of the communities has actually decreased over the past few years, but that's not enough to address climate change. The towns are going one step further in moving to 100 percent renewable energy.
Increased investment in sustainable energy reduce the impact of climate change will also increase the area's power supply reliability. It may also help drive down the cost of flood insurance—a common concern for beach property homeowners, renters, and businesses.
Laying the Clean Energy Foundation
East Hampton was the first municipal government on the East Coast to set such an optimistic energy goal, and they're already making strides. This spring, the New York State Energy Research and Development Authority (NYSERDA) designated East Hampton a "clean energy community," citing its "leadership in reducing energy use, cutting costs and driving clean energy locally."
Specifically, East Hampton has begun monitoring and reporting the energy use of municipal buildings, begun using and supporting alternative fuel vehicles, achieved its Smart Communities Certification, and streamlined the process allowing individuals and companies to get approval for solar power.
Much of this success is due to the hard work of citizens and the grassroots nonprofit Renewable Energy Long Island, which has helped keep enthusiasm for these goals high. Local utility companies are also working to incorporate solar power into their existing ifrastructure, and the city has identified more than ten municipal properties that could generate additional power from the wind and sun.
Harnessing Offshore Wind Energy
A large part of that renewable energy will come from an approved wind farm in the offshore waters between Long Island and Martha's Vineyard. Including a proposed 15 wind turbines, the farm could power 50,000 average homes.
The wind farm is part of a chain of farms proposed by developer Deepwater Wind that could supply a significant proportion of New York State's energy needs. The Hampton towns see wind energy as a return to their roots, since the area has a rich heritage of windmills going back hundreds of years.
By investing once again in the sun and the wind, and less in fossil fuels, towns like East Hampton and Southampton are helping move us all toward a more secure, and cleaner, energy future.
CleanChoice Energy works to address catastrophic climate change by providing 100% clean, renewable energy using wind and solar power. Learn how you can make the switch to clean energy today.