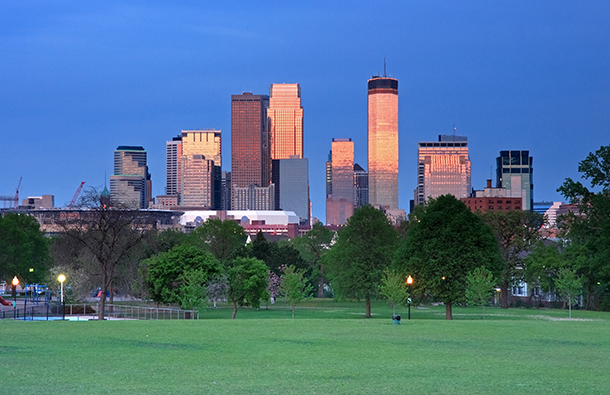 Minnesota is reaffirming its commitment as part of the renewable energy revolution. The state's largest city, Minneapolis, is making plans for its electricity to be powered solely by renewable energy in less than fifteen years.
This spring, Minneapolis announced that its municipal facilities and operations will operate on 100 percent renewable energy by 2022, less than four years from now. The city plans to be 100% powered by renewable energy fully by 2030. City Mayor Jacob Frey was proud to pass the bill: "Resolutions like the one passed today are more than just a statement of values—they are a roadmap for shifting our systems to better serve all our neighborhoods."
Minneapolis is the 65th U.S. city (plus the largest Midwestern city) to pledge itself to 100 percent renewable energy—Rochester and Saint Louis Park also made the renewables pledge.
Going 100% Renewable Will Benefit All Minneapolis' Residents
By the first quarter of 2019, Minnesota's City Coordinator's Office will roll out a systematic plan on how they will achieve their ambitious goal. Signatories have stressed that this plan won't leave anyone behind, because—"no matter their race, income, wealth or credit history, (everyone) can access and benefit from renewable energy and energy efficiency."
One of the council members who helped draft the proposal said in a statement, "In addition to being the right thing to do for the planet, investing in renewable energy allows us to keep more energy generation revenue in the city and create jobs for Minneapolis' people of color who have been historically excluded from the old energy economy."
Renewable Energy is Growing Strong in Minnesota
In 2017, renewable energy made up a quarter of the state's electricity generation, up from a fifth in 2013. Wind power alone generated 18 percent of Minnesota's energy last year. That makes renewable energy the second largest source of electricity generation in the state.
Wind energy has become dramatically more cost-effective, even without tax subsidies. And solar energy is becoming more common and desirable, too, especially with its growing practice of community solar programs. Community solar makes participating in regional solar an attractive alternative if a household can't install solar panels on their roof.
The appetite for renewable energy in Minnesota—both wind and solar—continue to grow. Earlier this month, regulators overhauled procedures that will help traditional utility companies work with renewable energy more efficiently and more effectively. Minnesota's Department of Commerce also recently released a compiled list of funding available to clean energy efforts.
Additionally, results reported at a solar energy conference in Minneapolis found that thousands of acres of the ground under solar panels now grow native plants, which help support pollinators, and by extension, local wildlife and ecosystems. The panels help the soil retain water, protect some crops from frost, and keep harvesters more comfortable while working the fields.
Across the "Land of 10,000 Lakes" clean energy is burgeoning. CleanChoice is part of that progress! In May, we launched 42.5-megawatts of community solar projects in Minnesota. CleanChoice Energy Community Solar customers in Minnesota have the opportunity to save money on their utility bills with no upfront costs. The clean energy produced at the solar farms will save more than 20,000 tons of global warming pollution every year.
Whether you live in Minnesota or in other states where we offer service, you can support the clean energy revolution by choosing clean energy. As a green electricity supplier, we supply customers with 100% pollution-free clean energy sourced from wind and solar power. Learn how to switch your home to renewable energy today!