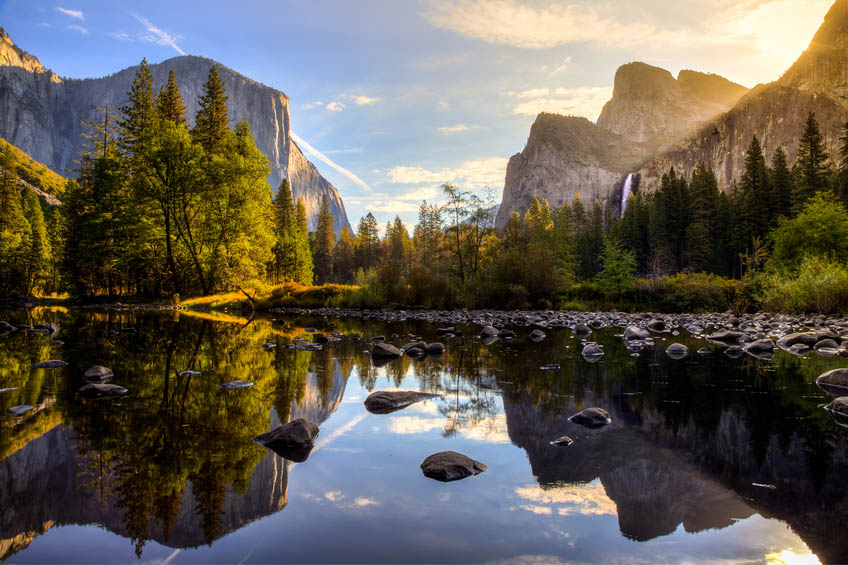 Hiking in national parks is a beautiful, eco-friendly way to spend a day (or several) enjoying nature. Here are a few of the best parks to visit to see Mother Nature in all her splendor:
1. Maine: Acadia National Park
Acadia National Park offers some of the most beautiful vistas in New England, especially in the fall. One of the most popular hikes is the Ocean Path, which offers a leisurely 4.4-mile round-trip route along the coastline, with wonderful views at Otter Cliffs and Monument Cove. The 2.4-mile round-trip Beachcroft Path offers a slightly more difficult hike up one-of-a-kind pink-granite steps. There are plenty of great places to stop as you climb Champlain Mountain before reaching the summit.

2. California: Yosemite National Park
Get out of your car as soon as you get to Yosemite, because it's best explored on foot. If you only have time for one hike, check out Vernal and Nevada Falls. These two spectacular waterfalls can be reached by hiking up the Mist Trail and then back down the John Muir Trail. One of the most arduous hikes is the Half Dome, which can take two days (remember to get a permit in advance) and offers breathtaking 360-degree views of Yosemite Valley and the Cathedral Range.

3. Idaho, Wyoming and Montana: Yellowstone National Park
Yellowstone offers perhaps one of the most diverse sets of hiking trails that vary in difficulty and crisscross the park's 3,400 square miles. The Yellowstone Lake Overlook, a two-mile trail, is a great day trip that takes you through a mountain meadow for a striking view of the lake's West Thumb and the looming Absaroka Mountains beyond. The slightly longer Purple Mountain trail winds through pine forests and offers views of Firehole Valley and Gibbon Valley.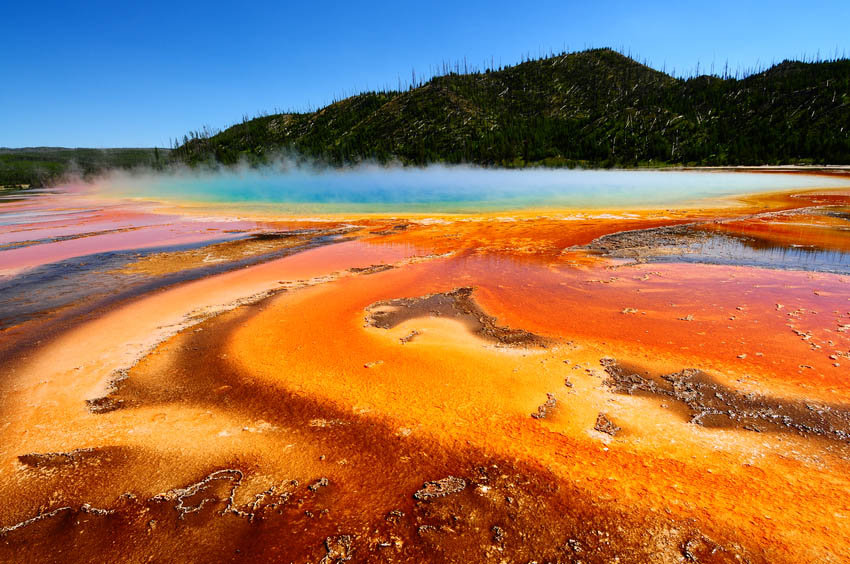 4. California: Redwood National Park
A true California gem, Redwood National Park contains trails that wind deep into the woods, as well as others that hug the state's famed coastline. The 2.6-mile Leiffer-Ellsworth trail runs along the historic 19th-century Crescent City Plank Road before dipping into a canyon teeming with hazel and vine maple. For a true California experience, try the Coastal Trail, which kisses sandy beaches and the rugged Pacific coastline.

5. Hawaii: Volcanoes National Park
The last option is perhaps the most exotic. The volcanoes that created the Hawaiian Islands remain active, and the surrounding areas can be explored on a number of spectacular trails. If you only have time for one hike, choose the Kilauea'iki trail, which begins in a lush forest before descending into the Kilauea'iki crater, filled with hissing steam vents. A longer and more strenuous hike can be found on the Waipi'o trail, which winds through the "Valley of Kings," a lush tropical valley with more than its fair share of waterfalls and black sand beaches.
These are just some of the options available to you if you want a world-class hiking adventure. If volcanoes, redwoods and geysers don't catch your interest, see what other national parks are near your home. Remember that there are plenty of ways to limit your carbon footprint while traveling. Pick locations that are closer to home and opt for one long trip rather than several short forays. If you're staying at a hotel, leave the lights and air conditioning off when you leave for the day. A hike in the national parks is also a chance to think about how you can limit your energy usage at home to keep the environment beautiful for generations to come.