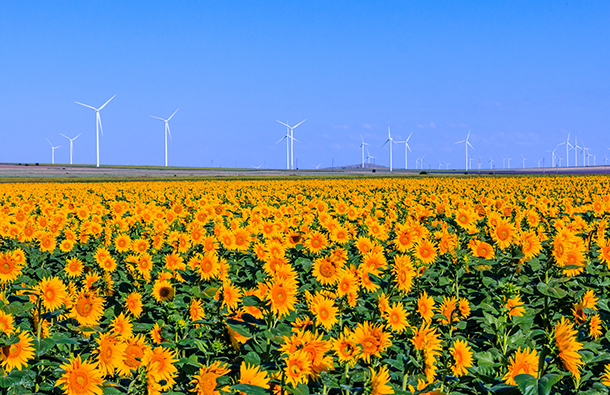 Using clean, renewable energy is a powerful way to fight global climate change. It's also a way to achieve energy independence, improve energy security, and boost local communities with jobs and other tangible benefits. With two-thirds of Americans wanting the U.S. to develop cleaner energies over fossil fuels, clearly more citizens are demanding an alternative to dirty, polluting energy sources.
You might be thinking, what can I do to show my support for renewable energy? Turns out, you can do a lot. As the renowned cultural anthropologist Margaret Mead once said, "Never doubt that a small group of thoughtful, committed citizens can change the world."
To help get you started, this blog serves as a "Citizens' Action Guide to Supporting Renewable Energy" to help empower passionate people like you. It offers resources and real-world tips to get your voice heard where you live.
By participating in sustained local action and support, you'll help your community—and the nation—move to a cleaner, more sustainable future.
1. Think Globally and Act Locally
Participating at a local level by engaging with your representatives, and by voting in local elections, is extremely impactful in influencing change. USA.gov offers a quick and easy way to locate state, municipal, and local contact information for where you live. And, the bottom of this blog offers some states' information. Remember that even though email, social media, and other online communications are more common, a phone call is still often the best way to make your voice heard with governing officials.
Elections at local levels can be some of the strongest indicators of support for renewable resources. Learn which candidates have proven records of supporting wind and solar resources, and other renewable energies.
One of the easiest ways to track what, and who, will be on your ballot is Ballotpedia, where you can enter your address and see a sample ballot for upcoming elections. The site lets you explore information on representatives and candidates, and various proposed measures. Alternately, the League of Conservation Voters tracks congress' voting records on legislation affecting Americans' health and environment, including renewable energy, with their National Environmental Scorecard.
You can also track your local elections, as well as candidates' views and actions, through social media. If you are a Facebook user, you might want to try the Town Hall feature. By entering your address, Facebook will find all your representatives and officials who have Facebook pages, allowing you to follow and engage with them. It will also allow you to sign up for voting reminders, notifying you of upcoming elections in your area.
Vote Solar is another resource to help you track solar energy policy initiatives in your states. They advocate for state policies and programs needed to repower the electric grid with clean energy.
The American Wind Energy Association (AWEA) is a trade organization representing the wind industry. AWEA follows issues and policy, and does advocacy work.
2. Join Organizations that Support Renewable Energy
Many nonprofits and advocacy organizations help people take action for renewable resources, and advance clean energy initiatives. Here are a few that work towards a renewable future, both nationally and regionally. Many have opportunities for individuals to donate, sign petitions, volunteer for organized events, or take other forms of action:
3. Use Our Shortcut List of Resources-By-State
Regardless of where you are in the country, there are resources that will help you learn, track, and get behind renewable energy issues. Below is a quick list of state specific resources in the areas that CleanChoice Energy serves.
Here at CleanChoice Energy, our vision is a world free of catastrophic climate change with pure, clean air and abundant renewable energy. We make sure that all your home's energy you use is replenished on the grid with 100% wind and solar power. Learn how you can switch your home or business to pollution-free clean energy today!
---
Delaware
Illinois
Maryland
Massachusetts
Minnesota
New Jersey
New York
Ohio
Pennsylvania
Washington, DC