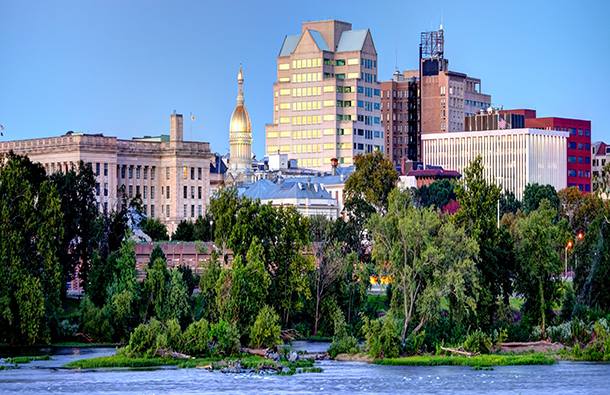 Demand for clean, renewable energy is blossoming in New Jersey, the "Garden State." This was made abundantly clear when clean energy advocates gathered in front of the Statehouse in Trenton earlier this year. Shortly thereafter, New Jersey lawmakers proposed a bill that would require the state to get 100 percent of is energy from renewable sources by 2035.
More recently, in the world of solar energy, the New Jersey Assembly and Senate supported and passed pro-solar bills, making access to solar power closer to reality. Collectively, the two bills will protect both the solar industry and consumers by advancing the state's clean energy economy and enabling a community solar program.
Clean Energy Putting Down Roots in New Jersey
New Jersey's goal to run on 100% renewable energy by 2035 may sound ambitious, but it's not entirely outside the realm of possibility. New Jersey is making strides toward building upon its renewable base and increasing its clean energy portfolio with improved legislation to support renewable energy development. Established legislation already mandated that one-fourth of electricity sales should come from renewable energy resources by 2021.
A recent poll found that New Jersey residents of both political parties resoundingly support renewable energy. The poll showed that 89 percent of those survey believe renewable energy is important to the overall state of New Jersey, and 73 percent are willing to pay as much as $10 more a month on their energy bills, if the energy comes from solar or wind power.
The poll showed that nearly all the state's residents understand that solar and wind are clean energy. Less than half of voters considered natural gas a "clean" energy, and less than a quarter classified nuclear energy as a "clean" energy source. Overall, two-thirds of those surveyed believe that the state should invest more in developing clean energy sources instead of investing in fossil fuels and pipelines.
Most tellingly, 80 percent of respondents supported New Jersey moving toward a goal of getting 80 percent of its energy from renewable sources by 2050, a slightly less ambitious goal than 100 percent by 2035, but an encouraging step nonetheless.
In short, "New Jerseyans . . . want clean, renewable energy, not more polluting fossil fuels," said Tom Gilbert, campaign director, ReThink Energy NJ and New Jersey Conservation Foundation.
Clean Energy Jobs Helping Grow New Jersey Economy
Increasing the presence of solar and wind power improves more than just the state's carbon footprint; it can also help the state's economy.
As of 2017, New Jersey is home to more than 7,100 solar jobs, making it the eighth highest ranked state in the nation, according to the Solar Foundation. As more solar arrays come online, including a 3.4-megawatt facility that just broke ground in Sparta, that number will rise, as will the number of wind jobs.
In wind energy developments, New Jersey is getting ready to launch an offshore wind farm, ten miles off the coast of Atlantic City, as well as up to 3.5GW of total offshore wind development. Also worth noting, New Jersey has 12 manufacturing facilities producing products that range from blade, tower, and turbine nacelle assembly facilities to raw component suppliers.
"The benefits of clean energy are multidimensional; they help lower people's daily expenses; they also offer job opportunities, strengthen communities, and improve people's health," write Pari Kasotia and Cherie Brooks, with Vote Solar and Power52 Foundation, respectively. "We all want the same things for New Jersey—a healthy environment, a strong economy, and equal opportunity for everyone in all walks of life—be it access to clean power, clean air, or the clean-energy economy.
If you're a New Jersey resident, you can be a part of your state's clean energy future by choosing CleanChoice Energy as your clean energy provider. We provide homes and businesses with 100% pollution-free renewable energy sourced from wind and solar. Learn how you can easily switch to clean energy today!