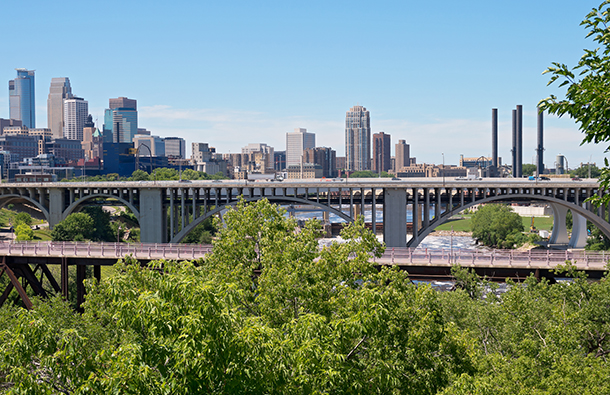 The Southwest and California—with their warm weather and golden sunshine—have traditionally been on the forefront of solar development in the United States. But other regions are starting to pick up the trend, too, as more Americans want to use and support renewable energy. Momentum for renewable energy, especially wind and solar, is building quickly in the Northern and Midwestern states.
Let's take a look at one state's move to renewable energy—Minnesota. Across the state, real traction is being made in renewables.
Solar Energy Jobs Are On the Rise
Minnesota, especially, is starting to turn its face toward the sun. Ranked 16th in the nation for solar energy, Minnesota is home to a burgeoning industry that's working to make the state's energy usage cleaner and more sustainable. Nearly 3,000 people work in the solar field; and jobs in solar installation and project development have skyrocketed in the past few years. Last year, solar jobs grew 90 times faster than the overall state economy. And, notable Minnesota based corporations like Target and IKEA have embraced solar to power their operations.
Ten years ago, Minnesota set itself a goal to generate a quarter of its energy from renewable sources by 2025; a goal the state has already almost reached.
Governing officials hope to raise that goal to 50 percent of energy coming from renewables by 2050; a goal the state is positioning itself to meet. At the end of the day, Minnesota's leaders know that the economic, security, health, and environmental benefits of renewable energy are in the best interest of their people.
Minnesotans Support Clean Energy
While Minnesota is more famous for snow than for sunshine, it's also ideally placed to harness solar and wind power—especially wind. The great prairies and plains, with their miles and miles of uninterrupted windswept terrain, are perfectly positioned to take advantage of wind power.
A recent poll found that Minnesotans themselves overwhelmingly support clean energy. More than 80 percent of Minnesotans support funding for clean energy research—and more than three-quarters of them also believe that carbon dioxide should be regulated as a pollutant. But that's not all; more than 60 percent of state residents believe that energy companies should be required to generate at least a fifth of their energy from clean renewable sources—a goal that recent state legislation and tax incentives support. With this kind of support, solar is becoming more of an option over others as a power source. Case in point, in 2016 and 2017, the state's solar capacity jumped dramatically with hundreds of megawatts of new installed solar energy generating power, even as thousands of megawatts of coal plants are being retired. According to Finance & Commerce, "Minnesota is entering a new era of energy production that promises to upend the traditional power grid in the same way the internet, the iPhone and deregulation transformed communications over the past 30 years."
So, how is the agricultural community embracing renewable energy? The state's farmers have long supported non-fossil fuel based energy—Minnesota ranks fourth in the nation for ethanol production and operating capacity. And farmers, ranchers, and landowners in the Midwest are increasingly investing in wind turbines and solar arrays. In fact, solar energy is beginning to catch up to the booming wind energy market in Minnesota. The state is steadily climbing the ranks for installed solar arrays and capability, responding to growing demand by Minnesota for clean, renewable energy. And, according to the Institute for Local Self-Reliance, currently, there are nearly 10 times more community solar projects planned for Minnesota than at any other time in US history.
We're Answering Minnesota's Call for Clean Energy
What are we at CleanChoice Energy doing to offer clean energy choice to Minnesotans? We're bringing community solar to the "Land of 10,000 Lakes."
With community solar, more people can get access to solar power even if they can't install panels on their roof or they don't own their homes. By participating in community solar, Minnesotans will be supporting local solar. That's in addition to seeing savings on their electricity bills.
If you live in Minnesota, learn more about how you can join a community solar farm and start saving on electricity bills. CleanChoice Energy supplies customers with 100% renewable energy, with the goal of making clean energy accessible to everyone.