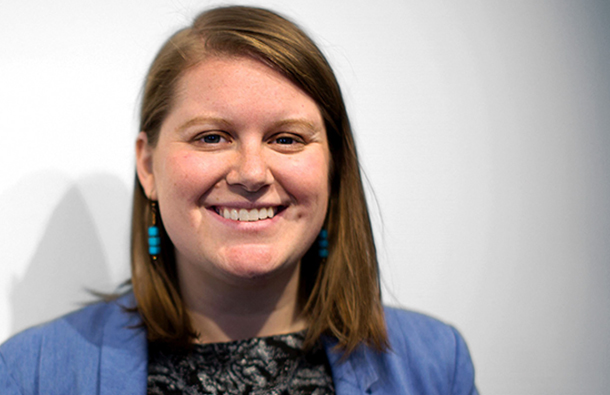 Great leaders are often those who see problems that aren't obvious to everyone else—and then set out to solve them.
That admirably describes Jackie Weidman. As a college student at the University of Delaware, she was inspired by a class on literature and the environment. The passions spurred by books like "Silent Spring," the landmark book by Rachel Carson that spawned the environmental movement, caused her to change her major from psychology to the broader focused field of sustainability.
She chose resource economics, which she described to Forbes magazine as, "The intersection of environmental policy and economic development and how to balance the two." Jackie realized that environmental solutions needed to be economically and fiscally viable in order to get policy mechanisms and other stakeholders on board to drive real change.
After college, she taught environmental education in Ecuador and interned at New York Presbyterian Hospital, which has just launched its first sustainability program. There, she started to get a deep understanding of sustainability as a holistic effort—not just political or one department in a system—but the organizing basis underlining all the operations of a household, company, or government.
Hoping to understand how energy and environmental decisions get made in the United States, she went to work for Washington, DC think tank the Center for American Progress as a special assistant for energy and environmental policy. There, she became familiar with the American political process, and began to identify gaps in how energy policy gets made.
Jackie moved on to the Union of Concerned Scientists and to Urban Ingenuity, a company that works to help building owners and property managers to fund energy efficiency, renewable, and microgrid projects. But she continued to feel that she was addressing symptoms of climate change and sustainability; not the root-cause problem itself.
Part of the challenge, she observed was that there was a gap in clean energy leadership. There were plenty of elder statesmen supporting clean energy and environmental sustainability, but the younger generation of leaders wasn't yet apparent in coming up the ranks. She realized that the first sustainable resource we needed was a steady supply of educated, innovative people with the appropriate background, leadership skills, and qualifications to be part of the decision-making process around clean energy issues.
That's why she co-founded the Clean Energy Leadership Institute with Adam James—a volunteer-run nonprofit that aims to train the next generation of energy leaders.
"It's really important that our generation is stepping up and leading companies and other organizations," she tells Grist.org. "Right now, we have a once-in-a-generation opportunity to solve the world's most complex energy and climate challenges."
The Clean Energy Institute (CELI) recruits young professionals from a range of fields, including think tanks, nonprofits, education, policy, science and technology, and the media. As CELI fellows, they gain the knowledge and tools to equip them to lead the country and the world to a safer, cleaner, more sustainable future by becoming clean energy leaders.
Since its inception in 2013, CELI has trained more than 200 fellows in a range of fields. Very few of them started out to focus on energy efficiency or sustainability, but all of them have realized that this skillset and philosophy is key to our planet moving forward.
Rather than training people for a job, Jackie has helped to train a generation—to save the world.
Speaking of clean energy, you can make a difference every day by choosing 100% pollution-free renewable energy as your source of electricity. When you choose CleanChoice Energy as your green electricity supplier, your energy will be sourced from wind and solar power from within your region, so you'll help reduce pollution for you and your neighbors. Learn more how you can easily switch your home or business to clean energy today!
(Photo of Jackie Weidman, courtesy of Grist Magazine, Inc.)