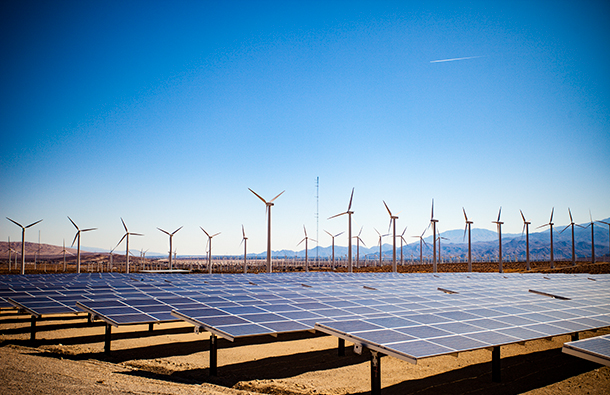 This week is National Clean Energy Week! The first year such a week has been celebrated, dozens of organizations have banded together to celebrate clean, abundant energy sources that foster American jobs, strengthen our national security, and preserve the environment. As we move into an uncertain future, something that seems increasingly is that green energy is the best bet for our future.
As an organization fostering the growth and management of both wind and solar energy, we're proud to offer customers energy that is renewable, sustainable, and the face of the future.
Out Performing the Alternatives
Wind and solar power are truly clean energy sources. Harnessing the wind and sun makes the energy necessary to run our country, businesses, and homes out of resources that are literally as free as air. While both windmills and solar farms take energy and investment to set up, once they are up and running, they quickly pay for themselves in producing clean energy. Neither energy source pollutes or creates toxins byproducts, like carbon dioxide or methane emissions.
And both wind and solar are being improved and made more efficient every day through technology innovations. Those who choose solar and wind can have peace of mind that neither create even a fraction of the havoc that fossil fuels wreak on the natural environment.
Powering the Economy
The fields of both solar and wind energy are growing at an impressive rate. Currently, solar energy employs more people in the United States than oil, coal, and gas combined. Last year in the United States, the solar industry grew by 25 percent and the wind energy field grew by 32 percent. And, with this growth, scientists and engineers are working to find new ways to harness the sun and wind, and to store, manage, and distribute that power.
Economists confidently expect both fields to continue growing, adding thousands of American jobs every year: not just engineers, technicians, and designers but also managers, communicators, marketers, customer service representatives, and the entire range of occupations that support the generation of energy.
Ensuring Our Natural Security
The United States military itself considers reliable, renewable, domestic energy to be an important, urgent goal. Becoming energy self-sufficient would make the nation more secure because we would not be reliant on foreign countries to power our armed forces. And independent, local power sources make military bases more secure and less vulnerable to attack. As far back as 2007, the military pledged to produce or procure 25% of its energy from clean, renewable sources by 2025.
Clean energy is definitely the face of the future—for the country and for the world. You can celebrate Clean Energy week by knowing that these green, renewable energy sources are good for the health, wealth, and security of the American people.
Here at CleanChoice Energy, we work to address catastrophic climate change by providing customers with 100% clean, renewable energy using wind and solar power. Learn how you can easily switch your home or business to renewables today.