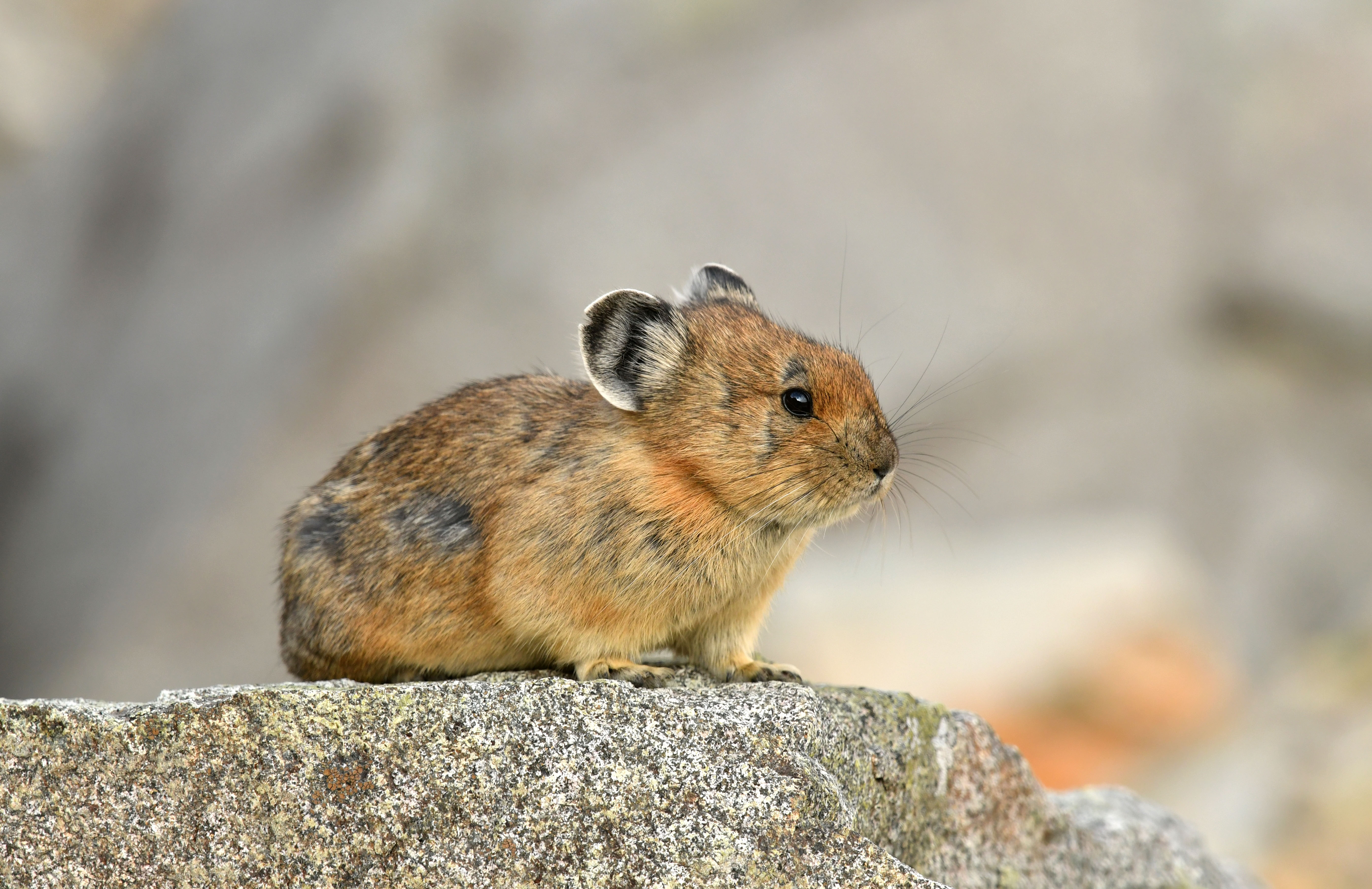 Scientists are working diligently to measure the impact of climate change on the world's wildlife, and last month we learned that threatened species may be worse off than expected. A study, published in the journal Nature, found that 50% of threatened animals have already been negatively affected by climate change.

Most of that negative effect happens when changes in climate force wildlife to shift their habitat to find new, suitable environments. That's what is happening with the pika, a member of the rabbit family that lives in alpine environments. Pikas thrive in subzero temperatures and can die when exposed to heat above 78 degrees. As the climate warms, pikas must retreat further and further up a mountain in search of cold weather. Entire populations have died when the temperature at the top of a mountain is still too warm and the pikas have nowhere to go. Especially in areas with nearby civilization or geographic obstacles, animals cannot adjust, and therefore cannot survive.
We Can Help Save Our Threatened Wildlife
According to the latest IPCC report, the pace of climate change will determine the fate of many species. Under the highest estimates for potential climate change, many species will not be able to move fast enough to a new environment, therefore facing a greatly increased risk of extinction. But under the lowest projections, and with proper conservation efforts, the vast majority of species will be able to adapt to a new climate.
In other words, the power is in our hands. We can provide time for these species to adapt and move to new environments, and also eliminate the need for some species to change habitats. If we act now to limit climate change and promote conservation efforts, we can save thousands of species.
Actions You Can Take to Protect Wildlife from Climate Change
Reduce Your Carbon Footprint
We've written a lot about reducing your carbon footprint, but it's truly one of the most powerful resources we have to protect wildlife from climate change.
The Nature Conservancy has an extremely useful list of climate actions that can directly help wildlife populations, including purchasing renewable energy, eating a low carbon diet, limiting your use of fossil fuels, and spreading awareness about the need for thoughtful consumption to your friends and community.
Switching the source of your electricity to renewable sources is one of the single biggest changes you can make to reduce your carbon footprint. It only takes two minutes to source 100% wind and solar power for your home or business through CleanChoice Energy.
Promote and Fund Conservation
Local land trusts are a great place to start for becoming active in land conservation that provides habitat for local wildlife. For example, the Save Mount Diablo land trust works near San Francisco to preserve and protect wildlife and wild lands in the Mount Dialbo range from development. You can search for a land trust near you that works to protect wild lands and wildlife in your state.
There are also numerous wildlife organizations that allow you to directly support the expansion of land that is set aside for wildlife. The National Wildlife Foundation has a program where you can "adopt an acre," and they'll use your funding to work with ranchers to retire grazing licenses on federal land, allowing many forms of wildlife to flourish with access new grazing areas.
Get Involved in Local Campaigns to Protect Wildlife
Around the country progressives are launching or expanding grassroots campaigns to mitigate climate change and protect wildlife through political advocacy. A popular resource for new groups is the Indivisible Guide, which explains effective congressional advocacy tactics and can be easily applied to environmental issues. In addition to new groups, national environmental leaders like the The Wilderness Society, 350.org, and Defenders of Wildlife are launching new programs to protect wildlife and public lands.
So search for a group that aligns with your interests, and sign up for their newsletter or join their Facebook group. They'll likely send out local and national actions that you can take to support wildlife, and may even host local meetings that you can join.
National petitions and click-based advocacy aren't enough to mitigate the impact of climate change on threatened species. Only consistent activism on the local and national levels can create the change we need to protect our wildlife and prevent species loss and extinction.