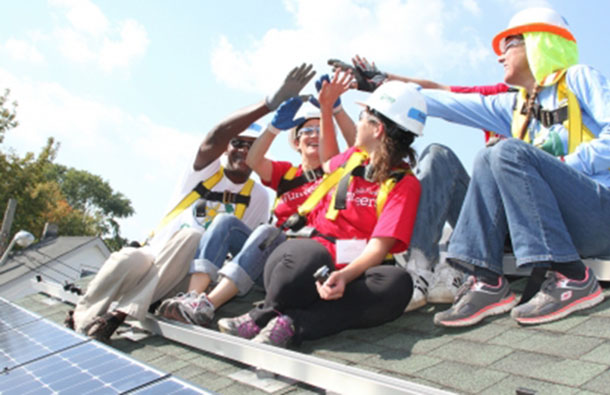 All around the world, industries and governments have been making advances to slow climate change. We are very thankful for the scientists, policy makers, and private citizens who join forces to address challenges posed by CO2 emissions and global warming. The following environmental victories are just a few successes to celebrate.
Environmental Victories
The Ozone Layer Is Healing
For the first time in 30 years, the ozone hole over Antarctica has shrunk. Scientists have determined that the gap has decreased by more than 1.5 million square miles. They've concluded that the change is a direct result of the 1987 Montreal Protocol that banned the use of chlorofluorocarbons (CFCs), which are believed to be the leading cause of atmospheric ozone depletion.
Renewables Are Making an Impact
More Solar Power: In 2015, the United States installed just 7.3 GW of solar power generation units. In 2016, in the United States, the number of solar power generating system installations topped one million, adding over 16 gigawatts (GWs) of clean power capacity to the power grid.
More Wind Power: The Block Island Wind Farm is on track to commence operations in Fall 2016. As the country's first off-shore wind farm, Block Island joins more than 60 off-shore wind farms currently operating in Europe and employing more than 58,000 workers. America's first foray into off-shore wind-generated electricity opens an entirely new industry in this country.
Fewer Greenhouse Gases (GHGs): Experts predict that the use of solar-generated power in 2016 will prevent more than 45 million metric tons of greenhouse gases (GHGs) from being emitted, which is the equivalent of closing 12 coal-fired plants.
Economic Victories
Installation Prices Are Falling
The rise in demand for renewable energy is driving down the price of these systems around the globe. In India and Dubai, the cost per kilowatt-hour (kWh) of solar-generated electricity is now at just six cents, unsubsidized. In Morocco, wind-powered electricity sells for just three cents per kWh.
In the United States, the price of an installed residential solar photovoltaic (PV) system dropped by 60 percent over the past 10 years. During the same period, the cost to implement utility-scaled solar fell by 73 percent.
Jobs and Industries Are Developing
Renewable energy is now the fastest-growing segment of the global energy sector. Encouraged by lower costs and improving energy policies, countries are investing like never before in the renewable energy industry. According to the International Renewable Energy Agency (IRENA), the industry employed 9.4 million people in 2015, a jump of 5 percent over 2014. In China, renewable energy employs 3.5 million workers, compared to only 2.6 million in the oil and gas sectors.
The World Agrees to Reduce GHGs
In an unprecedented collaboration, at the Paris Climate Summit held in December 2015, 197 countries committed to work together to reduce global emissions of GHGs. Noting that increased atmospheric temperatures were melting ice caps and intensifying droughts and floods around the world, these countries agreed to adopt national carbon dioxide emissions standards to reduce their proportional contribution to the problem. In August 2016, President Obama joined with Chinese President Xi Jinping, and together ratified their respective country's commitment to the challenge, indicating the intention to increase investments in their country's renewable energy industries.
Reversing Climate Change Is an Achievable Goal
Climate change is a sobering reality and there is still much work to be done, but this month, let's also remember to celebrate these achievements which lay the groundwork for a planet powered by 100 percent renewable energy sources. For as the author Robert Collier once wrote, "Success is the sum of small efforts, repeated day in and day out."
Help CleanChoice Energy continue the momentum to move Americans onto 100% renewable energy. Get a $25 VISA gift card for each friend you refer who successfully enrolls in 100% renewable energy with CleanChoice Energy.