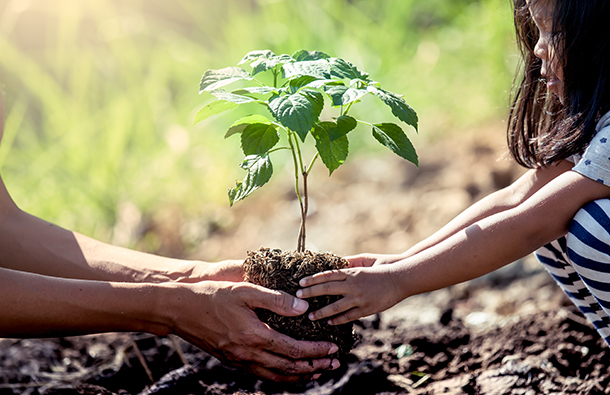 September 18 through 24 is Climate Week. And today, specifically is Zero Emissions Day. It was conceived as a day to give the planet a break from as much carbon-emitting activity as possible.
Now in its ninth year, Zero Emissions Day is celebrated on September 21 both because it's the United Nations' International Day of Peace and because it's the Autumnal equinox. Both the northern and southern hemispheres get equal amounts of light today.
If you're looking for a few ways to join in the cause, check out some tips for reducing your carbon footprint.
Electronics: Streamline the number of electronic devices—especially appliances—in your home. Using a solar charger to charge your phone or small personal electronic is a great way to incorporate green energy into your life. Unplug electronics when they're not being used if you can, to avoid what's called "vampire energy," which is energy that's used by some electronics even if they're turned off but still plugged into a wall outlet.
Lights: Turn on lights in the room you're currently using. Use natural light as much as possible. Decreasing your reliance on, and exposure to, artificial light not only benefits the planet, it also has clear benefits on human health.
Heat and Air Conditioning: Keep the thermostat set at a consistent temperature, which will also save you money in energy bills. Dress for the seasons, layering in the winter and fewer clothes in the summer. When possible, leave the windows open letting in fresh air to circulate air throughout your home.
Kitchen: You don't actually have to preheat your oven—doing so is a holdover from a time of much larger, less efficient ovens. Speaking of older technologies, manufacturers now offer many energy efficient kitchen and laundry appliances, most at the same price of less efficient models. Regarding dryers, some clothes last longer if they're line dried, so if you're interested in how to user your dryer less, consider hanging laundry in your laundry area or room if you have one, instead.
Food: Whether at home or in a restaurant, there are resources to learn which foods carry a heavy carbon footprint.
Outside: Use solar lights to light your porch or backyard. And, when you go to grill or enjoy a fire, look at your options. Gas grills emit release less carbon dioxide than charcoal grills, but burning a coffee log in your grill or fireplace is even more efficient still. If you want to do more outside, plant a tree. Trees absorb CO2 and act as filters for the planet's greenhouse gases.
Transportation: If public transportation is available and convenient, that's a good way to reduce your emissions, especially if it's a bus or transit system that runs on green fuel. When running personal errands, consider planning trips to get everything done without a lot of running back and forth.
Consumer Choice: Companies that are reducing their own carbon footprint are often proud of it and will go out of their way to let you know. And, you can also look up companies to compare their carbon emissions score.
Clean Energy: Using renewable energy like solar or wind to serve your home's electrical needs is a big way to make a difference each day.
CleanChoice Energy supplies customers with 100% renewable energy from wind and solar power. Learn how you can be a part of the renewable energy revolution, and switch to clean energy today.