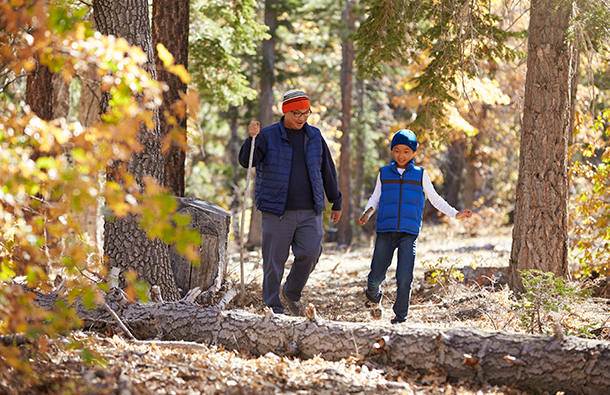 Children can be one of the most powerful forces for societal change. They can be enormous allies in envisioning a future that is better than the world they already know. With kids living in a time of heightened awareness of environmental issues, technological revolutions, and a growing world population, some children are tuned to want to do things like help conserve energy and preserve the future. What can you do as a parent, guardian, mentor, or community member to help educate and inspire the next generation of climate change problem-solvers?
Build a Green Foundation Through Curiosity
Kids are naturally drawn to living creatures—animals and plants—whether large, small, ordinary, or awesome. Educating them about what they see, and asking questions that encourage them to think about the world around them, reinforces that the natural world is a source of joy and wonder.
Taking children outside on walks or hikes where you live and further abroad is a simple step that provides them first-hand interactions with the environment. Using age-appropriate bird, plant, and insect guides can help kids feel invested in and plugged into their natural community.
Encourage by Example
Talk to kids about what you're doing and why you're doing it, whether it's turning the lights off to save power, replacing less efficient light bulbs with LED bulbs, making sure faucets are properly turned off when not in use, or using reusable containers to reduce trash. You may even want to make a game out of the energy-saving activities, which is often a great motivator for children learning new things.
To go a step further in helping kids understand how renewable, clean energy sources work, try some DIY kits. There are dozens of solar generator kits, windmill making kits, and others available online that you can enjoy learning to build together.
Sharing stories about real kids inventing things that make a difference for the planet can be a way for them to imagine themselves doing the same thing.
Help Kids Take Action
If children are ready to more involved, introduce them to NASA Climate Kids, an excellent online resource for information, resources, and online games.
Jane Goodall's Roots and Shoots is also a good tool for educating and inspiring young minds. It's a resource for helping kids come together with like-minded youngsters who want to become youth activists to change the world for the better.
Lastly, encourage kids to look into school science fairs, programs at local science and children's museums, and broader science competitions. There are many out there, and here are just a few: The KidWind Project, The Paradigm Challenge and The Discovery Education 3M Young Scientist Challenge.
We live in a complex, ever changing world that's wrought with challenges but also full of opportunity. Ensuring the next generation cares about the planet as much as, or more than, the current one is key to bringing positive change. We can help children do that by giving them the tools to get started.
CleanChoice Energy works to address catastrophic climate change by providing 100% clean, renewable energy using wind and solar power. Learn how you can easily switch your home or business to renewables today.