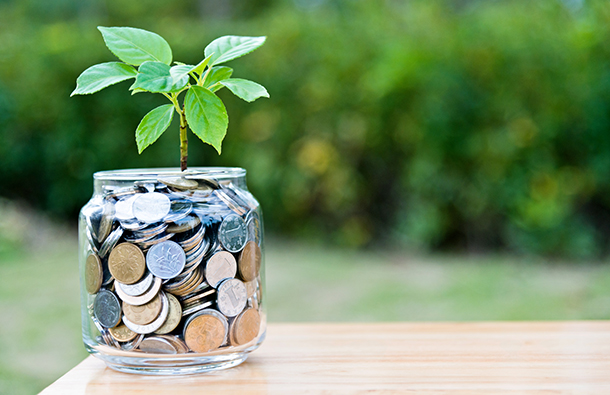 Increasingly, the concept of investing in sustainable industries, companies, products, and services is starting to take hold in the financial world. Specifically, two strategies—ESG investing and fossil-free investing—are becoming more commonly pursued and practiced by those holding big purse strings.
As the investment community begins to recognize that responsible investments can be good for the planet overall—as well as for the bottom line—sustainability-minded investment firms (and individuals) can now put their money where their values are.
This statistic alone speaks volumes about the trend: According to the Global Sustainable Investment Review, in 2016, assets managed with ESG strategies totaled nearly $23 trillion—a 25 percent growth from 2014.
ESG Investments Are Sound Investments
ESG stands for "Environmental, Social, and Governance" investing. More participation indicates that the financial community is evaluating companies and funds based on more than just strictly financial qualities. It ensures that the company being considered for investment values sustainability, ethics, and corporate governance as major components of its business.
Here's a quick explainer on what ESG is all about:
The "E," for environment, means that investors evaluated a company's energy and resource use, pollution and carbon footprints, as well as how they treat animals and natural resources.
The "S," for society, refers to a company's business relationships and its behavior toward other companies and the society in which it operates. It ensures that the company is a positive force in its own cultural environment, and that the leaders treat their employees well.
The "G," for governance, ensures that a company is transparent and accurate in its accounting, reporting, and decision-making practices. It also stresses the importance of avoiding conflicts of interest, illegal behavior, and benefiting from political contributions.
ESG investing isn't just a good idea ethically—it's also a sound investment principle in the long run. Companies that engage in risky or ethically unsound behavior are more likely to lose business over time or, increasingly, face a catastrophic collapse.
Those that take the long view by making sure they are good stewards tend to be steadier, more secure, and a better risk for those who invest in them. ESG investments also tend to make bigger profits and are more highly valued than others.
Recently, New York City divested their pension plans of nearly $5 billion in fossil fuel investments, in a very public show of support for the planet and for renewable energy. Economists and supporters hope that this move will inspire other cities and organizations to follow suit.
How to Become a Fossil-Free Investor as an Individual
Individuals can become fossil-free investors, too. Many free, online tools are available to ensure your personal investments are as green and sustainable as possible, and not supporting fossil fuel interests.
As You Sow's Fossil Free Funds organization allows individuals to search for mutual funds by name and evaluate their reliance on, and relationship with, fossil fuels. Social(k) offers a similar tool for retirement plans specifically.
Depending on how actively you manage your financial portfolio, Forbes has a quick step-by-step guide to becoming a more ESG-savvy investor.
Contacting a financial advisor is another excellent step to take. Several organizations have sprung up specifically to help individual investors divest themselves of fossil-fuel-based or unethical investments. DivestInvest helps both professional investors and individual investors move away from fossil fuels.
If you don't directly manage your investment funds, such as with a 401(K), look into where the investments are made on your behalf. If you don't have green-friendly, sustainable investment options available to you, you may need to explore how to get your voice heard in the organization that provides that 401(K).
CleanChoice customers are taking steps to invest sustainably in another way—by supporting clean energy. After all, our planet is the ultimate investment.
CleanChoice Energy supplies customers with renewable energy from wind and solar. Learn how you can easily switch to 100% pollution-free, clean energy sourced from wind and solar today.