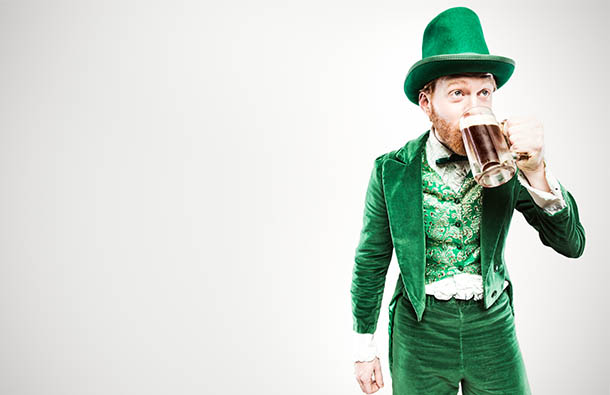 As spring approaches, many are getting ready to celebrate St. Patrick's Day. We want to help you celebrate the Emerald Isle with all things green. This month we're highlighting some of our favorite clean energy beers, wines, and spirits.
The overall carbon footprint of a pint of beer, a bottle of wine, or a bottle of liquor has many factors. New Belgium Brewing Company, an environmentally friendly beer company, estimates that in the lifecycle of a six pack of its signature Fat Tire, 3,188.8 grams of greenhouse gases are emitted. Another study on the environmental impacts of the Australian red wine industry found that for every 0.75 liter bottle, 6 kWh and 363 liters of water are used. Another study suggests it takes about 0.2 kilowatt-hours per beer, meaning one six pack requires the same amount of energy as a TV left on for 20 hours.
Many breweries, distilleries, and wineries are committed to reducing their environmental impact with strategies involving water reduction and local sourcing. One of the biggest way these businesses can reduce their environmental impact is by using clean energy. This St. Patty's Day, we want to highlight breweries, distilleries, and wineries that run on clean energy; so if you celebrate, you can support wind and solar power. Here's a list of some of our favorites:
If beer and wine aren't your thing, you can always celebrate all things green with a little alternative energy at these sustainable coffee shops:
Cape Cod Coffee. This certified organic coffee shop in MA sources their beans from Rainforest Alliance Certified farms and composts all their coffee grounds and filters in order to be as environmentally friendly as possible. Their shop is 100% solar powered from the largest solar installation in Cape Cod, located on Airport Way in Hyannis, MA.

Peregrine Espresso. Located in the heart of Washington, DC, Peregrine practices many environmentally friendly practices, including composting, recycling, and using reusable glass milk bottles. Peregrine is also a CleanChoice Energy customer, using 100% wind and solar energy.
This St. Patty's Day, you can help make the world a little bit greener by visiting CleanChoiceEnergy.com/Referral to share wind and solar power with your friends and family. For each successful enrollment we'll send you and your friend a $25 VISA gift card for doing your part to make the world a little greener.