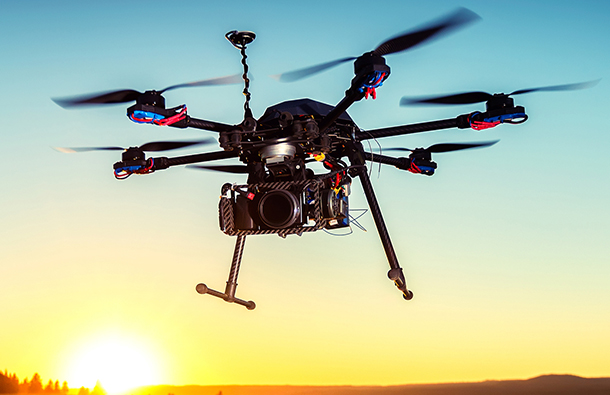 Ever wonder how solar and wind farms keep generating clean energy, day after day? With such precision-crafted technologies and potentially challenging elements like the weather, solar panels and wind turbines are hardy but they're also maintained, just like any other equipment.
That's where drones come in! Providing a unique and up-close view of solar panels and wind turbines, drones can help ensure that all the equipment is operating optimally—plus share additional data that humans can't otherwise get so easily (more about that later).
More and more, wind and solar farms are using drones, ranging from initial site assessment to operations and maintenance (O&M). Here's how drones are becoming a technician's high tech best friend for wind and solar farms—and all the cool things that drones can do.
How Drones Are Used on Solar Farms
The more well maintained a solar array is, the more efficient it can be, and therefore the more electricity is produced. For optimal operation, solar panels are kept clear, clean, and properly oriented.
For solar arrays, drones can be fitted with high-definition cameras, with infrared, or with heat-sensing technology. They can help detect hot spots on solar cells; panels covered with dust, vegetation, debris, ice, or condensation; wiring, fuse, or inverter issues; as well as detect and analyze optimal positioning for panels. Drones can also keep an eye on the entire plot for things like flooding, erosion, or encroaching plant growth.
A drone can also survey a roof with solar panels without anyone having to climb up on a ladder. During site analysis, such accessibility and safety saves time, money, and effort. And, drones can even be used during site design.
Drone use for solar plants has cut the cost of site assessment as much as 90 percent! Using them for assessment takes fewer resources, offers more reliable images than using publicly available satellite images, and is more affordable and safer than sending humans aloft.
How Drones Are Used on Wind Farms
Wind turbines also get regular inspections. Wind turbines are often hundreds of feet tall, and the job demands specialized teams with specific equipment and training. Once a turbine is operational, there are some places human hands, and human eyes, just can't reach. Being able to send up a remote-controlled drone camera is cheaper, safer, and more effective.
Wind turbine monitoring drones allow humans to keep a better eye on the state of the turbine—like making sure the blades are free of obstructions and the mechanisms are all working. Drone technology also allows computers and AI systems to do more sophisticated analysis, like thermal imaging to spot temperature increases to help detect wear and tear of turbine parts.
Keeping blades clean, as well as tracking wind patterns for maximum efficiency, improves the life and the utility of wind turbines, whether it's a single turbine powering a remote homestead, or one of hundreds of turbines on a wind farm.
Solar arrays and wind turbines are often part of sophisticated systems with built-in fail-safes and monitoring mechanisms. But, drones are playing a key role in getting 360-degree access to solar and wind sites, and helping advance the efficiencies of the solar and wind farms themselves. Pretty exciting, when you think about it!
For a more in-depth look at how drones have been, and are being used, in various industries, there's been much written on the subject. Here are some examples of commercial drone use, ranging from energy production to delivery services and more.
At CleanChoice Energy, we support the advancement of renewable energy and the technologies that support it. As a green energy electricity supplier, we supply 100% pollution-free clean energy sourced from wind and solar power. Learn how to switch your home or business to clean energy today!