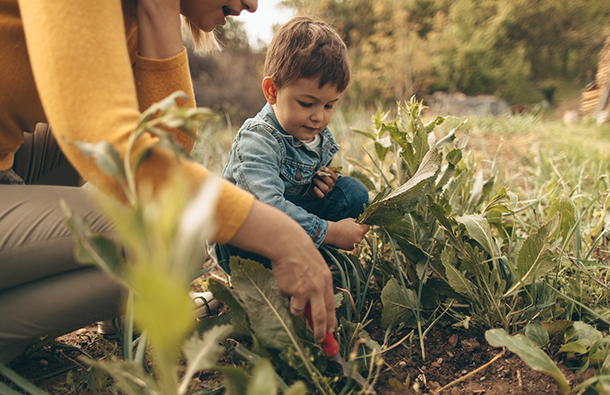 As warm weather slowly draws to a close, you might be thinking about fall. For gardeners and anyone else with "green thumbs," that means getting gardens ready for winter.
Gardening—whether in a yard, a city garden, or in a balcony container—can be an enjoyable way to get in touch with nature.
And, guess what—caring for the soil you use for gardening can also help fight climate change. Read on for tips on how you can create a healthier planet with a smarter garden.
The Secret Role of Soil in Climate Change
What we think of as soil actually contains huge numbers of microbes—as many as a billion bacteria in each teaspoon of soil. Those microbes have the potential to lock away massive amounts of carbon dioxide, helping to fight climate change. They also help clean our water and ecosystems.
The best way to keep the soil healthy is by mimicking nature as much as possible when gardening and doing lawn-work.
The technique, called "carbon farming" can help your green spaces be healthy as well as help heal the planet by reducing the amount of carbon dioxide that gets into the air. Carbon farming is also often more organic, less artificial, and less expensive than other techniques.
Farming to Keep Carbon in Your Lawn and Garden
1. Not Much Digging is Needed to Prepare the Soil: The key to protecting the soil is to disturb it as little as possible. In wild ecosystems, no one systematically tills or digs in the grass. You can do what nature does best for the soil by digging and tilling as little as necessary. Turning over the soil disturbs the microbe communities and releases stored carbon into the atmosphere.
2. Let the Leaves Do Their Work: Bare soil is bad for ecosystems, which means that raking and bagging leaves is not only unnecessary but can be harmful. Bare soils are rare in nature; instead, most ecosystems use leaf litter to cover and protect the ground. Organic matter helps insulate the ground in the winter and prevents the loss of nutrients, water, and carbon.
3. Variety in the Garden is Best: A diverse set of native plants makes for a healthy ecosystem. Fall is the perfect time to research what plants you'll care for in the spring, to plant seeds, and to consider your perennials. Select native plants, and planting in multi-species beds. Planting several different plants in one area, the way they grow in the wild, helps cycle nutrients in the soil without losing carbon.
4. Plants Love Compost: You can use organic waste from your kitchen and gardens to create your own compost. Compost both fertilizes and insulates gardens and lawns, keeping the ground and microbes healthy and fertile.
5. Fewer Fertilizers Means Happier Soil: Finally, foreign substances like chemical fertilizers can throw the soil microbes out of balance. Fertilizers also contribute to other problems, such as chemical run-off into the water supply and the fostering of dangerous algal blooms that harm wild ecosystems along coastlines.
Caring for the soil with these things in mind can result in a healthy, happy garden. For more planet-friendly tips on fall gardening, look for "sustainable gardening" or "organic gardening" resources. Have fun in the garden!
Do you want to reduce your carbon footprint today, and live more "green" every day? Choose clean energy from CleanChoice Energy. CleanChoice Energy supplies renewable energy sourced from wind and solar power. Learn how you can switch to 100% pollution-free clean energy today!