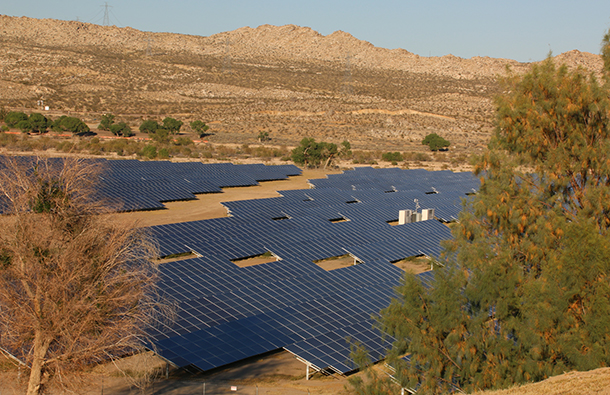 As the global climate changes and warms, deserts expand. The Sahara alone, the world's largest warm-weather desert, has expanded ten percent since 1920.
Desertification—the transformation of green, growing land into deserts—is a vicious cycle. As the climate warms up, droughts increase. As droughts increase, vegetation dies off, turning areas once dark with verdant growth into dusty, light-colored, sunlight-reflecting plains. The solar energy reflected back from the sand and dust warms the climate even more, further increasing the speed and intensity of the desertification process.
But now, scientists have glimpsed hope for the way that the cycle can be reversed that that deserts—underappreciated areas of unconventional beauty—might just be able to save the planets.
Deserts Have Lots of Renewable Energy Potential
For years, engineers have looked at deserts and envisioned how to harness their extreme amounts of sun and wind for their clean sources of energy.
The potential is staggering. In six hours, the world's deserts receive more energy than human civilization uses in an entire year. Put another way, if a mere four percent of our deserts were turned over to photovoltaic arrays, the world's energy problems would be solved entirely.
Solar farms in deserts face fewer of some of the challenges that farms elsewhere face. They boast an abundance of uninterrupted terrain, and often do not have many conflicting goals or uses. Some of the world's largest solar farms are located in deserts. The Mojave Desert is home to many solar farms, with more in the planning process. Massive solar farms in Morocco have the potential to power all of Europe.
Renewable energy projects continue to be developed across the world's deserts, especially as energy storage techniques and other innovations appear.
Greening Some Deserts Can Help Reduce Climate Change
A new study published by the American Association for the Advancement of Sciences indicates that putting solar panels in the desert could combat climate change in more than just the obvious ways. While those solar farms can signally increase the amount and accessibility of clean, renewable energy and decrease the amount of carbon dioxide released into the atmosphere, their very presence may actually help turn the tide of climate change.
The study analyzed a massive amount of data to predict how large-scale solar and wind installations in the Sahara would affect the local, and the global, climate found some very encouraging results. According to their model, such solar and wind farms would increase local rainfall. For example, wind turbines mix layers of cool night air with warmer upper currents, increasing the potential for needed rain.
In short, wind and solar farms would increase enough rainfall to bring back the lost vegetation, essentially reversing desertification and literally greening the desert—reclaiming fertile lands that have been lost to deserts and climate change.
Taking on existing desertification and avoiding more loss of verdant land is possible—and a heartening prospect in our era of climate change. The fight against climate change can feel overwhelming, but progress is possible, and within humanity's grasp. Every step in the right direction helps.
Signing up with CleanChoice Energy to switch your home electricity source from fossil fuels to clean, renewable energy is a big first step you can take to make a difference against climate change. CleanChoice Energy sources renewable energy from wind and solar farms located as close as possible to where our customers live. Learn how you can switch your home to 100% pollution-free clean energy today!