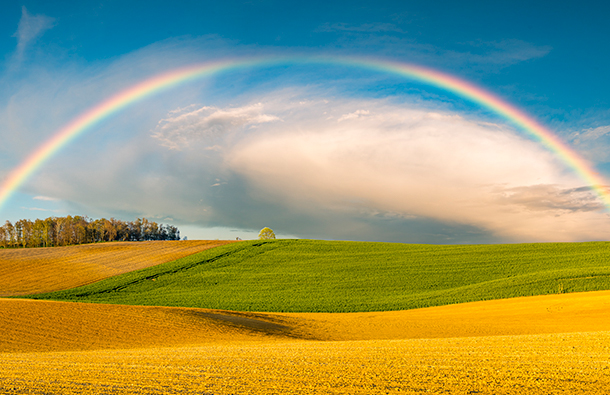 As we head deeper into summer, last winter's chill seems long ago. People are talking about how hot it is or thinking about the next summer storm…
Since the days when America was primarily a farming society, the weather still plays a large role in our daily lives. Though most people have roofs that keep them dry, and climate-control systems that can be adjusted at will or whim, talking about "the weather" is still a large part of daily conversation.
Curiously, there's a wide variety of how Americans reference weather. Regions have their own linguistic colloquialisms to describe what's going on outside, and many terms are quite colorful!
Next time you're in a conversation and it turns to the ever-popular topic of "the weather," try slinging one of these words or phrases into the mix and see what happens!
A Light Snow: When only a dusting of snow falls—just enough to show a cat's footprints through it, it's called a "cat track" in Maine, Massachusetts, Illinois, and Wisconsin. Conversely, it could be called a "skift" in the Northeast, South, or Southwest, a "skimp" in Iowa, Kentucky, or Indiana, a "goosedown" in Alabama, or a "scutch" in Delaware.
Storm Cave: Across the Midwest and the South, where tornados are the most common, people sometimes retreat to the cellar—by far the safest place in the house to be when a tornado (aka twister or cyclone) is on the move—as the "storm cave."
A Sheet of Dappled Clouds: A blanket of clouds that looks like cotton balls all nestled together—or the scales on a fish's back—is called a "mackerel sky." Originating with sailors' lingo, "Mackerel sky, mackerel sky - never long wet, never long dry," is a term that means a change in weather is coming.
Rain When the Sun Shines: Perhaps the cause of some of the most colorful weather terms, a sunshower is described in the south as "the devil beating his wife." In other pockets around the country, this might be referred to as "the wolf is giving birth," a "monkey's wedding," a "fox's wedding," "pineapple rain," or, lyrically, "liquid sun."
A Sudden, Strong Downpour: In the Midwest, if a sudden rainstorm comes on—one of those where the rain seems to be coming down in buckets, so fast that the ground can't absorb it and the gutters can't handle it—you'll hear someone call it a "gullywasher." Elsewhere, the same phenomenon might be called a cloudburst, a duck-drownder (misspelling intentional), a turtle-floater, or a toad-strangler.
Mock Suns: An optical illusion caused by ice crystals high in the air, these "sun dogs" are illusory bright spots or even rainbows that "dog," or follow, the sun. Scientifically, they're called parhelion, haloes, glories, or coronas.
A Hot, Muggy Day in San Francisco: Mark Twain famously said that he'd never lived through a winter as cold as summer in San Francisco, where the summer tends to be cool and drizzly. In the infrequent case that a day dawns hot and muggy, though, it is called "Earthquake weather." While of course weather doesn't cause earthquakes, the weather was famously hot and muggy for two of San Francisco's worst earthquakes in 1906 and 1986, which is where the term comes from.
As the climate continues to warm, more severe weather events have become more common. So, no surprise that people are becoming more familiar with older, rarely used terms like polar vortex, bomb cyclone (aka bombogenesis), derecho, and meteotsunami.
Clean, renewable energy like wind and solar power can mitigate the effects of climate change, and therefore lessen the chance of more severe weather in the planet's future. Our vision at CleanChoice Energy is to avoid the catastrophic effects of climate change and make clean energy accessible to all. Learn how you can switch to 100% pollution-free renewable energy today!