Looking back over the past winter and into spring, you may feel like it's been a warm winter. And you'd be right. Unless you lived in the Pacific Northwest or a few isolated spots along the West Coast, where it was colder than average, you just experienced one of the warmest winters on record for the United States.
Take a look at the map below. It shows how each state in the nation fared during the six months between October 2016 and March 2017. Twelve states experienced their warmest winters ever. Only two states—Oregon and Washington—had near- or below-average temperatures. Every other state saw temperatures above average or much above average.


Earth's surface temperatures have set record highs the past three years in a row, according to NASA and the National Oceanic and Atmospheric Administration (NOAA). This trend is expected to continue into this summer.
Source: National Oceanic and Atmospheric Administration http://bit.ly/2oqwtDe
More heat coming this summer?
The weather experts at the National Weather Service predict higher-than-average temperatures for most of the country during late spring and early summer, as seen in the map below. This map reflects the forecast made in mid-March for the months of May, June and July. All the areas marked by tan or orange colors are expected to see above-average temperatures.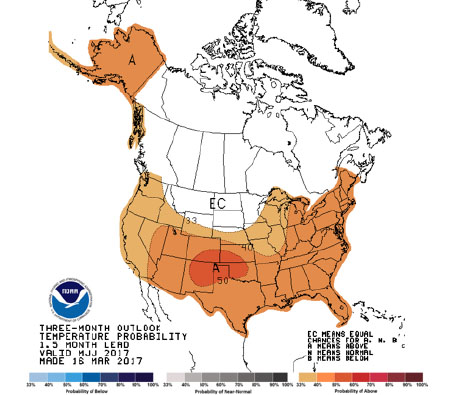 Source: National Oceanic and Atmospheric Administration, http://bit.ly/1g4QaGk

More days over 90 degrees?
Finally, we'll take a look at one other map. This map, below, shows the number of days in which the thermometer is projected to top 90 degrees F in the Northeastern U.S. by the 2080s. As you can see, historically, above-90 days have been somewhat rare in this region. Two scenarios are presented—one with lower emissions of greenhouse gases and one with higher emissions. In both scenarios, more days with above-90-degree heat are predicted, especially in the southern portion of the region.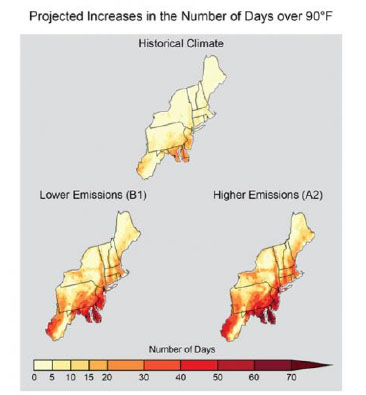 Source: USGCRP (2009). Global Climate Change Impacts in the United States. Karl, T. R., J. M. Melillo, and T. C. Peterson (eds.). United States Global Change Research Program. Cambridge University Press, New York, NY, USA.

Small Actions Can Make a Big Difference

In the face of global climate trends, you might feel like one individual can do little to effect change. But taking small actions can make a big difference. Especially when those actions are combined with others. This website from the U.S. Environmental Protection Agency, for example, provides more than 25 easy steps to protect the climate and reduce greenhouse gas pollution.

One of the most powerful things you can do is to join with other people who are concerned about the pollution from burning fossil fuels to generate their electricity. CleanChoice Energy helps you and your neighbors switch to clean sources of energy from the sun and the wind.

Interested in how it works? Find out how easy it is to make the switch here!