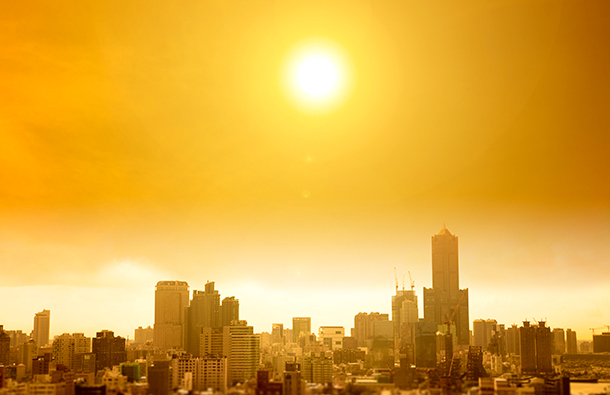 You may have noticed this year's weather has been dramatic, to say the least. Summer 2018 has been hotter than previous summers in many places around the world; often with new records being set.
What's the connection between climate change and extreme weather? And, what can people do about it?
First, a little summary of what's been happening…
Heat, Fire, and Floods are Affecting Many Regions
Wildfires in Europe have swept across the landscape in Greece, Sweden, Finland, and Latvia. In, the U.S., northern California wildfires have forced the evacuation of thousands of people, and other fires are taking place in the Dakotas and Washington state. Parts of the Middle East, Asia, and Africa are experiencing ongoing high heat that's even hotter than their norms.
In much of these affected areas, increased temperatures have dried out the foliage, which is especially noticeable in already dry, arid areas like the scrub of the Mediterranean and California, and in the normally cool and wet northern forests where the landscape isn't used to such a strong risk of fire. Warming weather also increase storms, which leads to more lightning strikes starting more fires. The worst fire seasons, scientists say, are those that follow years of extremes—extreme wet, then extreme dry. Climate change makes that combination more likely.
Some areas are dealing with floods. As more moisture is in the air due to a warming atmosphere, rainfall becomes more intense and can result in the super storms that many are experiencing this summer. Too much water falling too quickly means that the systems that regulate and manage weather impacts—like natural ecosystems and human built infrastructure—sometimes can't handle it, which leads to floods. As on example, Ellicott City, Maryland had its second "Thousand-Year Flood" since 2016. Warmer ocean temperatures also contribute to more severe storms and weather patterns, as warm water evaporates much quicker than cooler water.
Climate Change Makes Extreme Weather More Extreme
Scientists agree that data shows climate change is responsible for the increasing magnitude of extreme weather effects.
"What we're seeing right now across the Northern Hemisphere is extreme weather in the form of unprecedented heat waves, droughts, floods, wildfires," climate scientist Michael Mann told the radio show "Here & Now." "In isolation, it might seem like any one of these things could be dismissed as an anomaly, but it's the interconnectedness of all these events and their extreme nature that tells us that we are now seeing the face of climate change. The impacts of climate change are no longer subtle."
Thanks to increased modeling, nearly universal monitoring, and better computer systems, scientists can input observations from weather stations and historical data into models that reveal how climate change has affected any given weather pattern. This technique allowed scientists to say definitively that climate change made the current heat wave at least twice as likely to happen as it would have otherwise been, meaning at least half the events can be attributed to climate change.
What You Can Do About Climate Change and Extreme Weather Events
The good news is that there is something that people can do when it comes to reducing the effects of climate change. Reducing the amount of carbon dioxide that's put into the air is possible, especially when there's an option to choose clean, pollution-free renewable energy.
CleanChoice Energy offers energy choice to residents in eight states, plus the District of Columbia. Join a growing community of people just like you who want to make a difference. As a renewable electricity supplier, our mission is to make clean energy accessible to all. Learn how you can easily switch to clean energy today!