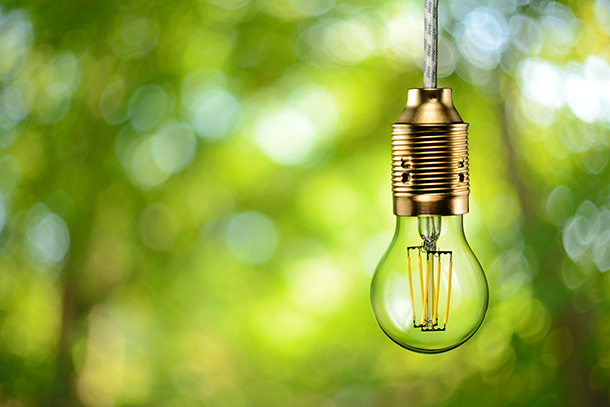 Most of us have walked into the hardware store to buy light bulbs labeled with, "100 watts, 60 watts, and 40 watts." But what does this mean? Not all of us know, nor may we realize the options for efficient light. Furthermore, many of us do not understand how the energy and power we use is actually measured.
What are the most common types of light bulbs?
Traditional incandescent bulbs are the most common on the market. Compared to newer technologies in CFL and LED bulbs, they are much less energy efficient. CFL (Compact Fluorescent) bulbs use one-fourth as much energy as traditional incandescents, which can end up saving you a lot of money on your electric bill if you switch to these bulbs in your house. LED bulbs are different in that they are both energy efficient and very long lasting. High quality LED's will last even longer than CFL bulbs, between 10-15 years, and use one-sixth as much energy than traditional incandescents. Due to the energy efficiency and long life of LED bulbs, you will be seeing them much more often on the shelves in the coming years.
What's a watt?
We must first take a step back to understand the difference between energy and power.
Power is the rate at which energy flows, and in electrical systems this power is measured in watts. So when you buy a 100 watt light bulb over a 60 watt light bulb, the energy will travel faster, the bulb will shine brighter, and you will use more power.
There are several conversion measurements used for electrical power:
1 gigawatt=1,000 megawatts=1,000,000 kilowatts= 1,000,000,000 watts
Now you can better conceptualize how many light bulbs you would need to get to a capacity worth one gigawatt of power.
What's the difference between watts and watt-hours?
This is where energy comes in. When your utility bill arrives in the mail, you are charged monthly in kilowatt-hours (kWh). Just as a watt is used to measure power, a watt-hour is used to measure energy used. One watt-hour is equal to one watt continually flowing for an entire hour. One kilowatt-hour is then equal to 1,000 watts continually flowing for an entire hour, and is how your electric bill is measured.
How much energy am I using and how much does it cost?
Now that you know what a kilowatt-hour is, you can understand that when you turn on a lamp with a 60 watt light bulb and leave it on for one hour, you have just used .06 kilowatt-hours of energy. When you look at your electric bill, you can see the amount you owe and the kilowatt-hours of energy used for the month. Take the price of the bill and divide by kilowatt hours used, and you will get the price you pay per kilowatt-hour of energy. For example, if your utility bill for the month is $50 and you used 450 kWh, you are paying 9 cents per kWh.
So the next time you walk into the hardware store to buy a light bulb, you now know that LED's are the best option to save money and energy in the long run. You understand how much power goes into that 60 watt bulb you pick off the shelf. And, finally, when you bring that bulb home and turn it on in a lamp, you can grasp how much you will be paying for that usage. Becoming more energy efficient in your home is achievable in many ways, right down to how you light your home.
CleanChoice Energy powers your home with 100% renewable energy, supplying 100% wind and solar power to our customers. Our mission is to make clean energy accessible to everyone. Learn more about how you can make the switch to renewable energy today.