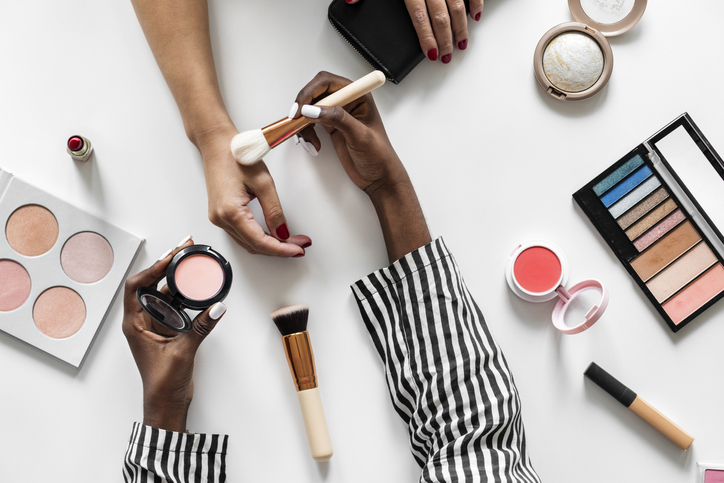 The global cosmetics industry takes a serious toll on the environment. Every year, the industry produces more than 120 billion units of packaging—the majority of which end up in our landfills and oceans. Here are 15 ways you can make your makeup routine as sustainable as possible:

1. Clean your brushes regularly to make them last longer, and don't throw out your tools before you really need to.

2. Don't buy more tools or makeup than you need. Think about if you really need that 12-pack of brushes or the 24-shade eyeshadow palette.

3. Buy makeup without glitter or SPF, which are both harmful to our oceans.

4. Look for products made without palm oil, which contributes to deforestation.

5. Choose products with refillable or recyclable containers that won't end up in a landfill after just a few months.

6. Use a washable makeup removing cloth or reusable rounds instead of disposable wipes or cotton balls.

7. Use biodegradable or compostable wipes (but make sure to properly dispose of them).

8. Make your own makeup! Check out our Pinterest for simple DIY makeup recipes.

9. Choose reusable lashes to minimize waste.

10. Buy brushes made with sustainable bamboo wood rather than plastic.

11. Choose brands with recycling solutions for their products, such as recycling empty containers in-store or through TerraCycle.

12. Choose products packaged in aluminum rather than plastic. Aluminum is 100% recyclable and can be reprocessed repeatedly.

13. Be wary of products labeled "natural," "clean," or "organic." While these terms may sound "green," these products are not necessarily eco-friendly or sustainable.

14. Be mindful of the non-recyclable components of your products, including lip gloss applicators, mascara wands, pumps, mirrors, and magnets.

15. Choose sustainable makeup brands! Here are ten eco-friendly makeup brands that will make you feel good about your purchase:
While all of these tips and brands can help you reduce the impact of your makeup routine, one of the best ways you can help the environment is to make the switch to clean energy. Our planet deserves to look as beautiful as you!