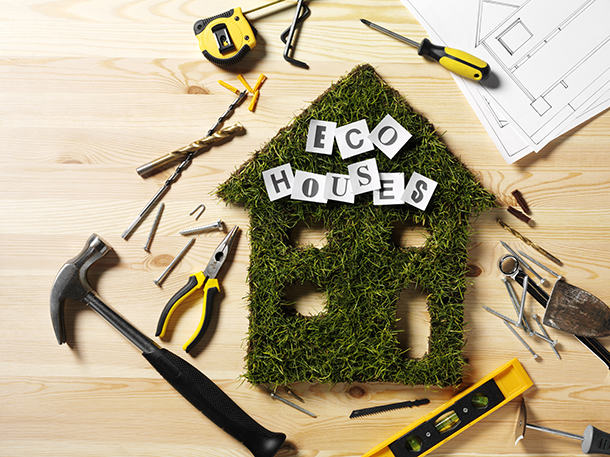 There have been many advances in green building science and technology over the last decade. With advanced modeling, coupled with smart materials, intelligent system design, and energy-efficient appliances, some buildings can actually supply all their own energy. As one would expect many of these hyper-efficient buildings are public buildings—schools, offices, municipal buildings. But others are single-family homes.
These super-performing houses are becoming much more prevalent and sought-after. Not only do they use clean energy to decrease the inhabitant's carbon footprint, environmental impact, and energy bills, they also serve as a visible testament to the homeowner's values and passion for the planet. They include both passive houses—houses designed to be so energy-efficient as to need almost zero energy input and net-zero energy houses—houses that produce, through renewable energy, as much energy as they consume throughout the year.

Washington, D.C.

If your image of a net-zero home includes something on a farm or in the middle of the wilderness somewhere, you're going to be surprised to learn that there is a net-zero energy home right in the heart of one of the most upscale neighborhoods in Washington, DC. Brandywine House, built by architect Robert M. Gurney near the Smithsonian's National Zoo and Rock Creek Park, this house—with its modern lines and floor-to-ceiling windows—looks like a house built with luxury in mind.

But its sensible and sustainable materials, energy efficient systems, and renewable energy supplies make it a big house without the shadow of a carbon footprint. A geothermal HVAC system keeps the house comfortable for human inhabitants, while solar panels and solar water tubes provide electricity and hot water. All those windows supply ample natural light, while a computer program monitors and adapts the glass to minimize heat loss in the winter and maximize it in the summer.

Cleveland, Ohio
In 2011, the Cleveland Museum of Natural History opened an exhibit that invited visitors to tour a prototype of a net-zero house. Called the PNC SmartHome, the exhibit closed in 2012, and the museum sold the house and moved it off museum property. But the designers and museum scientists continued to work with the new owners to ensure the house lived up to its potential and in June 2013, the house achieved passive house certification.

A typical home to the outside eye, its 2,500 square feet include three bedrooms, two-and-a-half baths, and a full basement, all encased in walls more than a foot thick. The well-insulated walls and state-of-the-art ventilation and windows keep the house insulated, which means it doesn't take as much energy to cool or heat, even in Cleveland's cold winters and sweltering summers. Solar panels supply energy to the rest of the house.

Suitland, Maryland

While many net-zero homes are newly-built, a 100-year-old house in Suitland, Maryland is giving them a run for their money. Built in 1921, the Cape Cod house was renovated in 2015 to become the first net-zero home in Prince George's County.

The Redevelopment Authority of Prince George's County renovated the house to consume no energy. The renovations took nine months; similar to the amount of time it might have taken to build a new house. But the renovations took advantage of the house's existing superstructure, footprint, and materials to offset the costs and energy ramifications of new construction.
The house is within walking distance of the Suitland Metro station and features three bedrooms and two bathrooms. Featured as part of the Greenbuild International Conference and Expo tour in 2015, it sold in 2016 for $273,000.
Pittsburgh, Pennsylvania

Riverside Mews, a fashionable neighborhood in Pittsburgh, is home to a new community of net-zero homes—the first and largest such community in Pittsburgh. Built by Ernie Sota and Sota Construction Service these homes look unexceptional, but that's only because their green features aren't immediately obvious to the casual observer.

The townhomes, which run about 2,000 square feet and include two bedrooms and two-and-a-half baths, feature both hyper-efficient construction and state-of-the-art amenities to turn the townhomes into self-sufficient units. Thirty-six solar panels provide the homes with electricity, while a 450-foot-deep closed geothermal system heats the houses in the winter and cools them off in the summer. On some days, the units even produce more energy than they can use.

To top it off, Sota added a variety of other green features including an under-the-counter composter in the kitchen, and building materials that contain recycled content or are sourced locally. The success of these units in cloudy, chilly Pittsburgh is paving the way for more net-zero communities.

Champaign, Illinois
Some of these houses are so energy-efficient that not only do they not use energy, but they produce more than they consume and are able to put that energy back out into the power lines for others to use, giving them the name plus-energy homes, an example is a farmhouse-style house in Champaign, Illinois.

The Gable House takes the notion of "rural chic" to a new level. Built to echo the aesthetic rhythms and sensibilities of a Midwestern farmhouse, right down to reclaimed siding from an old barn. Built for the 2009 Solar Decathlon, in which it won second prize, the house was built with the end goal of being both marketable and livable—not just a lab-grown prototype but an actual human home. The team of students who designed the house focused on making a house that was feasible to build using standard materials and equipment. Solar panels power the entire house and, on some days, produce more energy than the house can use.
At CleanChoice Energy our mission is to make clean energy a reality for all of us - even if we don't yet live in a net-zero home or are still just learning the difference between a regular lightbulb and a LED. We're proud to make it easy to source 100% wind and solar power for homes that range from rural farmhouses to high-rise condos. Help us make 100% clean energy a reality by referring your friends and family today. As a thank you, we'll send you both a $25 VISA gift card. Together we can create help create a livable future for all.
Refer today
!