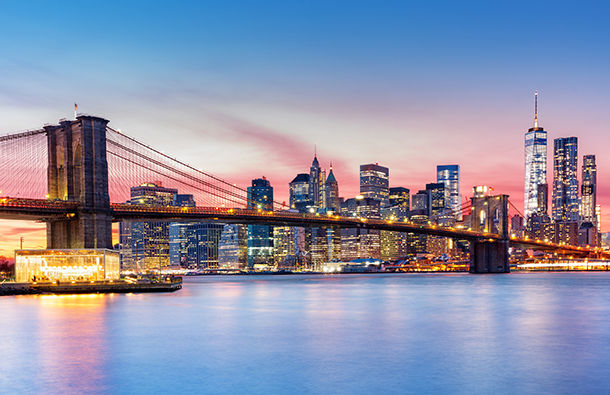 When you think of New York, do you think of renewable energy? If not, you might after reading this blog. That's because the state of New York is helping to lead the country in the transition from dirty fossil fuels to clean, renewable energy. The state now aims to source 50 percent of its power from renewable energy by 2030.
According to New York Governor Cuomo, "Solar is a vital part of this state's clean-energy future and we have experienced unprecedented growth in this new sector. We will continue to support the development of solar." The Governor also supports wind power, as illustrated by his plans to bring massive amounts of offshore wind power to the state.
His ambitious energy plan seeks to implement a 30 percent cap reduction of carbon, and ensure that all communities benefit from renewable energy programs (including underserved communities). A key intention of the plan is to simultaneously spur renewable energy market development, including lots of jobs. That's all while reducing emissions from power plants, and effectively ending the use of coal in the state by 2020.
New York's embrace of renewables is already happening. Overall, 24 percent of the state's energy came from renewable sources in 2016. New York is ranked tenth in the country for solar power and fourteenth in the country for wind power for installed capacity.

Building a Renewable Empire State
Why is New York so gung-ho for solar power? Some of it is due to geography. Despite the fact that it doesn't bask in sunlight at the same levels as states like Florida or California, New York is sporting solar panels all over. Due to the latitude, solar peak time in New York tends to coincide with peak demand time, a happy accident that makes New York a particularly promising landscape for solar arrays.
Additionally, climate change impacts have hit New York City hard, an island city built on bridges and tunnels, and is affecting many people. Recovery efforts from Hurricane Sandy, which wiped out power to parts of the city for days, are still taking place.
Outside of New York City, other cities and towns are eager to swap out collapsing infrastructure and economies, like Buffalo, for a renewables-based economy built to withstand climate change.
Already, the state's electricity demand is beginning to decline, thanks to installed solar arrays. Governor Cuomo recently pledged $200 million to help support energy storage across the state, boosting the effectiveness of both wind and solar energy, as well as $15 million to fund fuel cell systems in critical infrastructure facilities, $10 million for new renewable energy accelerators,
But, it's not just the sun that New York is investing in. Investing in wind power is picking up briskly, especially offshore wind. Recently, the New York State Energy Research Development Authority announced an offshore wind master plan that will help develop 2,400 megawatts of offshore wind energy by 2030.
Adding Renewable Energy is Also Adding Jobs
All this renewable energy development is also good for the state's economy and job growth. It ranks third across the U.S. for solar energy jobs with 9,012 jobs in 2017; an 11 percent increase over 2016. The state is also home to more than 1,000 wind energy jobs.
The future of New York is looking cleaner and more sustainable every day!
CleanChoice Energy can help you be part of that clean future. As a green electricity supplier, our mission is to make clean energy accessible to all. We're helping customers be a part of the clean energy revolution. Learn how you can switch to 100% pollution-free clean energy today.