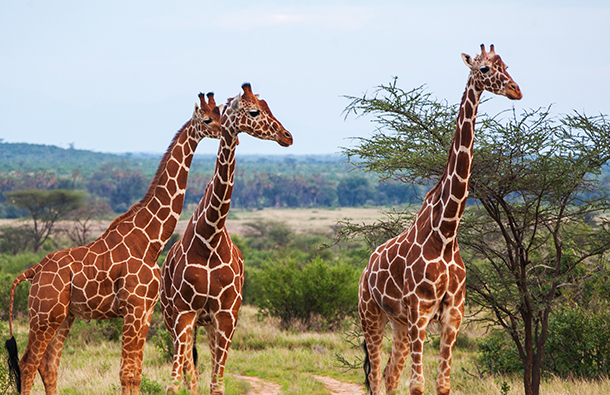 How are scientists helping to save animal and plant species in a warming world?
Climate change is the biggest threat most animal species face, often more problematic than pollution, development, poaching, or invasive species. Climate change alters the nature of their habitats, the weather patterns that dictate their activity patterns, their available food sources, and sometimes even the rhythms that cue animal migrations and hibernations.
A conservationist's job—to preserve species—is daunting. But creative, indefatigable scientists are coming up with ways to preserve biodiversity for future generations.
The Big Picture
Climate change doesn't just affect one species at a time. It affects entire ecosystems of species. Interestingly, such a wide-ranging threat is changing the way conservationists tackle conservation. Rather than focus on one species at a time, with even a keystone species like giant pandas, conservationists are shifting toward efforts to preserve entire ecosystems. These holistic efforts require a shift in mentality and strategy, but also promise some of the biggest potential benefits.
By focusing on ecosystems instead of individuals, conservationists can protect even small, overlooked species that may play outsized roles in climate change mitigation or offer solutions to future problems. Plants and organisms in protected areas may provide cures to climate-related diseases, become new crops, or themselves become energy sources to help build a sustainable future.
From the Ground Up
Scientists are also taking a hint from nature; looking to the natural world in applying solutions. Undisturbed natural habitats aren't just good for the species that live there. Robust plant habitats—like forests and swamps—can actually help mitigate climate change by converting carbon dioxide back into oxygen.
Healthy ecosystems on the coast are also vital for protecting species from the effects of climate change. The coasts are where climate change's effects, namely rising water, is often felt the most. Healthy mangroves, beach vegetation, and swamps all improve the planet's ability to handle additional carbon dioxide effectively.
Protected areas, whether on the land or at sea, are some of the best solutions for combating the effects of climate change on plant and animal species. Whether they are national parks, national forests, world heritage sites, or even just managed private land, land that's committed to being undeveloped is one of the world's best resources for preserving species for the future. And, in our cities, many are adding more oxygen to the air simply by planting trees in their densely populated urban environments.
Bridging the Gaps
Scientists are also hard at work to make sure animals have a robust, diverse, widespread population with ample habitat and food resources. This is why often the first step in safeguarding a species, or an ecosystem, from climate change is just to make sure they have access to as much undisturbed habitat as possible.
Conservationists use satellite and mapping data to analyze landscapes and how species move across and use them. They've found that migration patterns are shifting due to changes in climate and vegetation. Knowing this information can also help scientists pinpoint places where climate change will have large effects, as well as areas that might avoid some of the direst consequences. This allows conservationists to predict problems before they happen and adapt quickly to changing conditions.
Another tool used is genetic analysis, in which conservation biologists use scat samples to track individuals across the landscape. Building wilderness "corridors" between protected areas can help species maintain healthy populations. This is as true of tigers and leopards in Asia as it is of bears and wolves in North America and elephants and antelope in Africa. Understanding the migration patterns, and changes, of the world's animal species is critical to discovering new ways to help them survive and thrive.
All of these scientific approaches demonstrate conservationists' commitment to the biodiversity of the planet. We're grateful and optimistic about the critical role they play in shepherding our natural world, particularly through the impacts of climate change.
CleanChoice Energy works to address catastrophic climate change by providing 100% clean, renewable energy using wind and solar power. Learn how you can easily switch your home or business to renewables today.