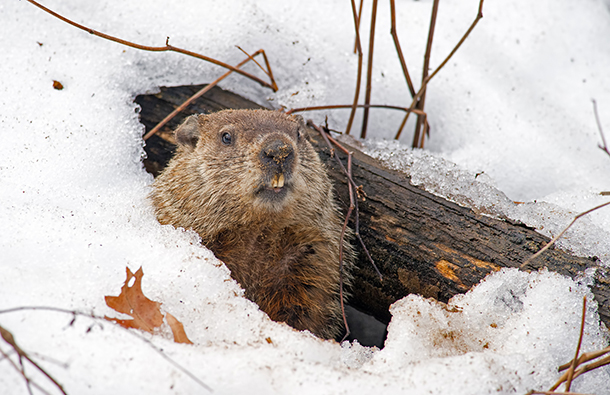 Punxsutawney Phil—that's a name that many recognize each February, when Winter is often in full swing and perhaps lasting longer than some may like. For those who may be unfamiliar, Phil is a groundhog. The ritual goes like this: if a groundhog observes his shadow, that means a longer Winter is on its way. This year, from his home in Punxsatawney, Pennsylvania, Phil "predicted" six more weeks of winter because he observed his shadow when he stepped out of the makeshift groundhog house made for him.

But, if you don't like Phil's prediction, you might be happy to hear that other groundhogs across the U.S. predicted an early Spring.
So, what do the scientists say about how long Winter will last this year? Data shows that warmer Spring temperatures will likely hit the Southern U.S. early. Most of the Northern U.S. will experience Spring later, and a 50/50 chance either way across much of the middle part of the country. That's according to the National Oceanic and Atmospheric Administration's "Local 3 Month Temperature Outlook," from its Climate Prediction Center.
But, back to groundhogs…While the groundhog tradition is considered all-in-good fun, and not a serious way to predict the weather, it does allude to the innate ability that animals have as indicators of weather and seasonal changes.
Let's take a look at how animals (and plants) have long "predicted" seasonal changes, just by being a part of nature.
Animals and Plants as Weather Predictors
For millennia, humans have used animal and plant behavior to track the seasons.
Watching the stars and the sun's movement across the sky. Tracking when a certain bird first sings or when a flower begins to bloom. These have historically been reliable signs to predict the best time for Spring planting, and to forecast the changing of the seasons.
Modern scientists, just like our ancestors, study the timing of when plants bud, sprout, and grow—and when animals emerge, breed, begin calling, or return from migration. The study, known as phenology, looks at the timing of biological events in plants and animals because such events often signal a season change is either here or imminent.
However, now with the climate changing dramatically, it's becoming more difficult for animals and plants to know whether a season is changing or if a temporary fluctuation is occurring. In other words, climate change is disrupting traditional seasonal cycles.
A Warming Climate Changes Things
Recent research on the national parks, areas where researchers have nearly unparalleled access to biological data, shows that in the past ten to thirty years, more than 75 percent of national parks have experienced an unusually early onset of Spring.
While an early Spring is often welcomed by people, it can be challenging for ecosystems. In a recent study, scientists have discovered that organisms are reacting and adapting to early springs and warmer weather unevenly. Ecosystems are delicately balanced networks of inter-reliance, with all the organisms interacting in intricate and often unexpected ways. If the web becomes unbalanced, it could affect changes that will need attention, like rethinking how our food-growing seasons work.
Putting the Planet Back in Balance
The good news is that people can help keep ecosystems stay healthy. One way to take action is to decrease your carbon footprint by using clean, renewable energy. That single step can help halt climate change and reduce its effects.
Here at CleanChoice Energy, our vision is a world free of catastrophic climate change. Our mission is to make clean energy accessible to all. You can join us in supporting a healthy planet by choosing clean energy. Learn how you can easily switch to 100% pollution-free, clean energy today.