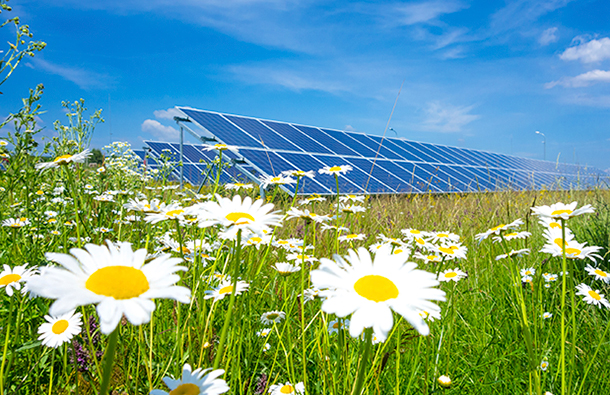 Support for solar is on the rise in Maryland, and the state is helping to lead the charge on renewable energy. A developing solar energy field and a blossoming number of solar energy jobs is forging the path for a bright future for solar—from the hills of western Maryland to the shores of the Baltimore Harbor.
In fact, in 2017, Maryland ranked 13th in the nation for solar energy jobs—with about one in every 500 jobs in the state supporting solar. Two recent polls show that Marylanders support renewable energy development and believe it should be a legislative priority.
Policies and Passion Support Maryland Solar Energy
Early last year, Maryland passed its Clean Energy Jobs Act, widely supported by residents. The law stipulates that Maryland should do its best to generate a quarter of its energy from renewable sources by 2020—an ambitious and commendable goal. This year, clean energy advocates are hoping to advance legislation that would further up the goal to 50 percent renewables by 2050, or even to 100 percent by 2035.
Support for solar can be seen in more every day, tangible ways, too. The Inner Harbor near the Baltimore Visitor Center is being updated with solar technology that visitors can literally walk on. That's because a sidewalk is being changed from bricks-and-mortar to solar panels. These ultra-sturdy, hexagonal tiles will harvest the sun's energy to generate power and light in the area.
In Maryland's Montgomery County alone, more than fifteen municipal buildings, including recreation centers, libraries, correctional facilities, and office buildings have switched on solar-energy collecting arrays. This is allowing those buildings to generate more than half of their energy needs directly from the sun.
Solar Industry Adds to the State's Economy and Workforce
The outpouring of public support is also echoed in the solar industry's job market in Maryland. Of the more than 250,000 solar workers in America in 2016, more than 5,000 of those were in Maryland. Experts report that 1,160 new solar jobs emerged in Maryland in 2016 alone. These are jobs in almost 200 solar companies, and range from installation and manufacturing to sales and project development.
As the state's solar needs increase over the next few years, analysts expect the job market to continue its growth, adding to the state's workforce. That's because new solar farms and manufacturing facilities are continuing to come online across Maryland.
And Now, Community Solar for More Energy Choice
With a growing demand for clean, renewable energy in Maryland, the state enacted a community solar pilot program in 2015—with the goal to make solar energy accessible to more residents. Community solar projects are slated for Anne Arundel, Prince George's and Baltimore Counties and will allow residents to buy clean, local energy at a reduced cost. Plus, farmers will be able to host community solar projects on their land. This leasing arrangement keeps farms in the family, while adding a new revenue source from a new type of "crop"—solar energy.
We're proud that six of the initial community solar farms will be CleanChoice projects. We'll be the long-term provider of the community solar subscriptions to homes and businesses for these projects. In addition to providing Maryland residents with energy choice, the projects will add more than approximately $1.5 million estimated in tax revenue and 100 jobs.
Get Involved and Discover How You Can Go Solar
Maryland residents who are interested in joining the solar movement can find easy solutions with CleanChoice Energy. Our 100% solar product allows customers to choose 100% solar energy with an easy click of a button.
We invite you to learn more about our CleanChoice community solar farms. We're actively developing farms in New York, Maryland, Minnesota, and Massachusetts—with more on the way.
But, we need your help! You can help ensure that community solar comes to Anne Arundel County, Maryland. Sign the petition now to lift the moratorium on Anne Arundel County community solar projects.
CleanChoice Energy supplies customers with 100% renewable energy from wind and solar. Our mission is to make clean energy accessible to everyone. We hope you will join us and switch to renewable energy!