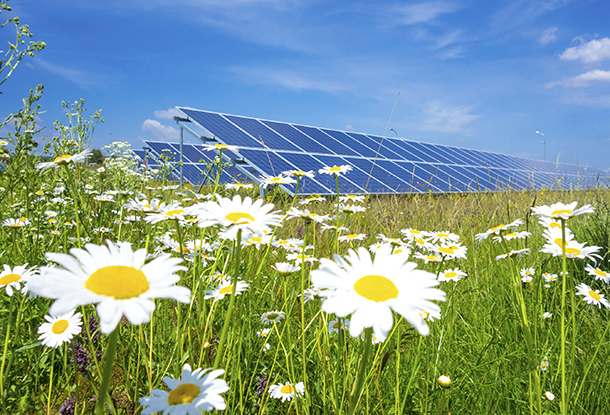 "The Earth's biodiversity is declining faster than any time in human history," so says the U.N. Intergovernmental Science-Policy Platform on Biodiversity and Ecosystem Services (IPDES).

That's bad news for humans. While we sometimes forget–cocooned in our air-conditioned houses with store-bought conveniences–we remain directly impacted by what happens to the plants and animals on this planet.

The simple truth is that we all depend on healthy ecosystems. Yet, changing atmospheric composition which affects climate patterns and seasonal shifts across the globe is harming fragile environments and impacting species' food supplies, reproduction, and survival.

Of particular concern is the dwindling honeybee population, which just had its worst winter yet. Last year, honeybee populations declined by as much as 40%; the equivalent of the earth losing more than 3 billion people in one year!*

Saving the bees is vital for a simple reason: for many essential crops no bees means no food. Bees play a critical (yet understated) role in food production; pollinating numerous types of plants that support a laundry list of foods. Without bees, we wouldn't be able to grow roughly 70 percent of the top 100 human food crops, which collectively account for more than 90 percent of the world's food supply, including such favorites as almonds, peaches, and strawberries.

So, what can we do? One innovative solution currently being explored is to use new solar farms as a safe space for bees by planting native wildflowers under solar arrays. These plants provide access to much-needed resources and provide safe habitats. Pollinators, including bees, butterflies, and even birds all benefit from pollinator-friendly, solar farms. Properly run, solar arrays have the potential to help support local biodiversity.

Some new solar farms are even actively being used to raise bee colonies. In these cases, bee yards, or apiaries, are placed along the sides of solar arrays; optimizing the value of the wildflowers underneath the panels. Not only does this help bee and other pollinator populations thrive, but the resulting honey is also available to customers who want to support pollinator-friendly solar farms. Some companies are even offering discounts on honey when you sign up to support renewable energy.

CleanChoice Energy has recently partnered with Bolton Bees, a family-owned business that promotes the productive use of land at ground-mounted solar farms. CleanChoice, which empowers people and businesses to cut emissions and live cleaner lives, is working to support the creation of new Community Solar farms or local solar facilities that allow residents, businesses, schools, municipalities and other entities to subscribe to a solar array and receive bill credits on their utility bill. Community Solar farms offer consumers the chance to support solar projects while saving up to 10% on their utility costs.

Innovative ideas like pollinator-friendly, Community Solar farms will be required to combat the climate crisis, promote healthy ecosystems, and preserve habitat for critical honeybee populations. Those who are interested in helping support safe habitats for bees can visit Bolton Bees and use the promo code "CleanChoice" to receive a 20% discount on SolarHoney®. Consumers interested in supporting regional, Community Solar farms and helping create a clean, pollution-free environment should visit CleanChoice Energy today.
*United Nations, Department of Social and Economic Affairs: World Population Prospects 2019. Accessed at http://population.un.org/wpp/Publications/Files/WPP2019_pdf. Conversions assume a starting population of 7.7 billion people.