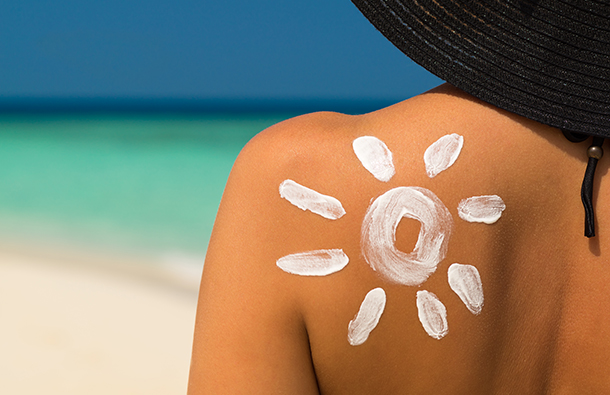 Nowadays, we are all more wary of sun exposure than we used to be. We understand that intense exposure to the sun without protection can lead to serious health issues such as melanoma and other skin cancers. Parents lather their children in thick layers of sunblock before going outside, preparing them to battle the great outdoors. Pet owners can even buy sunscreen created just for their four-legged, furry family members.
While it's important to protect our skin, it's also very important that when doing so we are not harming ourselves or the environment. Certain sunscreen products contain chemical additives that can be harmful to our skin and to the environment in which they come in contact with. When you cover yourself in sunscreen, it washes off into the oceans, lakes, and rivers that you swim in. This can often cause negative effects on the water and the life within it.
Impacts of Harmful Chemicals
A study published by Environmental Health Perspectives estimates that 4,000 to 6,000 metric tons of sunblock washes off annually into oceans around the world. More than 10 percent of our planet's coral reefs are threatened by sunscreen-induced bleaching. According to the findings, waters exposed to sunscreen contained up to 15 times more viruses than unexposed areas.
Many commonly found chemical ingredients in popular sunscreen brands are the cause of this pollution. They consist of: paraben, cinnamate, benzophenone, oxybenzone, and a camphor derivative.
Eco-friendly Alternatives
Luckily, there is an easy fix to this problem. Environmentally friendly products are now continually introduced into the consumer market, and there are a variety of safe sunscreen options to pick from. So the next time you go to your local grocery store (online or in person), simply grab a biodegradable or eco-friendly sun protection factor (SPF) rated product that doesn't contain these harmful ingredients. By doing this you will be able to protect your skin, your body, and your planet.
CleanChoice Energy works to protect the environment, fighting climate change by supplying clean, renewable energy. We make sure that all the energy our customers use is replenished on the grid with 100% wind and solar power, reducing the impact on our planet everyday.