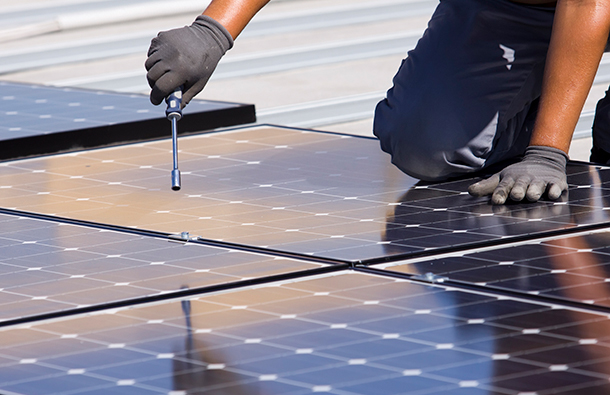 Climate change is perhaps the biggest challenge of our time. Industry, non-profit organizations, advocacy groups, and individuals all over the world are doing their part to create solutions.
Not discussed as often is that climate change is also a national security issue. In the U.S., the Department of Defense takes climate change seriously and is working to ensure national climate security, in part by using renewable resources.
The Military Considers Climate Change a Threat to National Security
The National Defense Authorization Act, signed last December, includes the risk to national security that climate change brings to our nation. It outlines actions the military must take to mitigate and manage that risk, just as it would with any other national security threat.
The act ordered a comprehensive study of immediate climate change threats to military installations. Preliminary research indicates that more than 125 military sites are at risk, including some—like the Marshall Islands billion-dollar Air Force base—that could become completely submerged as sea levels rise. Rising temperatures, devastating storms, and failing crops also increase unrest in areas where the military operates, further threatening our national and international security.
The Department of Defense is working to identify and assess these specific threats to best to prepare for them. That preparation may require re-allocating personnel and resources, adapting strategies in at-risk areas, and changing the armed forces' reliance on fossil fuels.
Clean, Renewable Energy is Safe, Secure Energy
Reducing or eliminating the burning of fossil fuels like coal and oil and switching to clean, renewable energy like solar and wind is needed globally to reduce the impacts of climate change. This is especially relevant for the United States military, which uses more petroleum than any other entity in the world.
So, how is the U.S. military using renewable energy?
By 2026, researchers expect the military to spend more than $1 billion every year on microgrid technology—technology that harvests energy with renewable resources, then stores and distributes it safely and efficiently. By using microgrids for a few years now, the military's oil consumption fell 25 percent from 2007 to 2015.
Active, complete microgrids protect troops from military attack, and make them less vulnerable to economic upheaval and natural disaster breakdowns. The military has been seeking methods to store a significant amount of energy within microgrids—technology that would be invaluable for military bases, but would also benefit civilian renewable energy grids. The Navy has been using solar microgrids for a few years, and said it will make its bases stronger through energy resilience, energy security, and cost savings.
Establishing solar and wind energy farms on military bases allow armed services' personnel to be self-sufficient for power. If units don't have to ship in or buy fuel for vehicles or electricity for buildings and operations, they can be much more independent, and much more secure.
Transportation is another area in which the military is making changes. Keeping re-supply convoys as small and as strategic as possible can save the lives of American soldiers. Adopting energy-efficient vehicles and processes are already cutting down on the amount of fossil fuels—and the size and frequency of resupply chains—but renewable energy could cut them down even further.
Increasing military investment in, and reliance on, renewable energy is vital to national security. This institutional adoption of renewables has many potential side-benefits for the civilian fields of wind and solar energy, as well. It also sends a concrete message to Americans that renewable energy is key to our society's future.
Here at CleanChoice, we're working toward a world free of catastrophic climate change with pure air and abundant renewable energy. That's why our mission is to make clean energy accessible to everyone. Learn how to switch your home or business to 100% clean, renewable energy today.