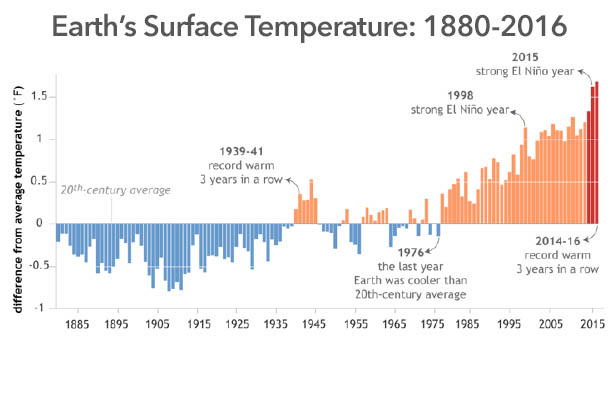 Last year was the hottest year in more than 100 years of weather record-keeping.
As the chart shows, the earth is warming. But why? And will the warming continue?
In this post, we'll try to answer those questions. And we'll show how you can make a difference in countering the trend.
First, some facts:
2016 broke all records for heat over the 137 years that weather records have been kept, U.S. government scientists announced in January.

2016 was the third year in a row of record heat.

From January through August of last year, each month set a new record for the highest average temperatures over land and sea. In other words, each month was the hottest month ever recorded.

In the 28 months between May 2014 and August 2016, 24 monthly global temperature records were broken. That included 16 in a row from May 2015 to August 2016
Hotter by degrees
So just how hot was the record heat? According to data from the National Oceanic and Atmospheric Administration (NOAA), the global average temperature for 2016 was 1.69˚F above the 20th century average. And it was 0.07˚F above the record set last year.
Several spots around the globe experienced record heat last year, including normally frigid Alaska and swaths of the eastern United States. Residents of Washington, D.C., for example, sweated through 46 days of 90 degrees or more, the most on record. Five of the top seven hottest summers on record in the nation's capital have all happened since 2010.
What alarms climate scientists about these new records is that they're part of a larger trend. In fact, according to NASA, the Earth has been heating up since 1880. But most of the warming has happened in the past 35 years, with 15 of the 16 warmest years on record occurring since 2001.
And there are other indications of rapid climate change besides temperatures:
While the oceans rose about 6.7 inches in the last century, they've risen nearly twice that rate in the last decade.

The oceans are not only rising. They're also warming.

The giant ice sheets in Antarctica and Greenland are melting fast, and the extent and thickness of Arctic sea ice has dropped rapidly over the last several decades.

Glaciers are disappearing from the Alps, Himalayas, Andes, Rockies and Africa.

The United States and other places in the world are experiencing more extreme weather events such as heat, rain and storms.

Since the beginning of the Industrial Revolution in the late 1800s, the acidity of the oceans has risen by about 30 percent.
Why the climate is changing
Most of the warming has been caused by heat trapped by excess carbon dioxide and other greenhouse gasses emitted by our exhaust pipes and smokestacks.
Some of the change is due to natural climate cycles. We had strong El Niños in 2015 and 2016. A strong and long El Niño exposes lots of warm water to the air, like adding a temporary floor furnace to the atmosphere.
Will global warming continue?
El Niño is over for now, and a weak, cooling La Niña is taking over. So climate scientists predict an end to the hot streak this year. Still, even if 2017 is cooler worldwide than the prior three years, scientists say it will only be a slight dip. While it's hard to predict the weather, scientists are certain that greenhouse gas levels are rising.
What you can do
The problems seem big, but there are hopeful signs of progress. For example, last year was the first year in which the top source of new electric generating capacity was solar, according to the U.S. Energy Administration. Not far behind, in third place behind natural gas, was wind.
By working together, we can make an impact. At the federal level, call or write your representatives in Washington, D.C., and encourage them to support research and development of renewable energy. At the state level, ask your legislators to direct local utilities to include more renewable energy in their plans for the future. More than 30 states and territories have renewable mandates—Hawaii plans to be powered by 100 percent renewable energy by 2045.
While the problem may seem overwhelming, each of us can do our part. By choosing 100 percent renewable energy from the wind and sun, you make a difference that adds up. In fact, on average, each household that switches to CleanChoice Energy prevents 18,876 lbs of carbon pollution per year. That's like preserving 8.1 acres of forest or taking 1.8 cars off the road for a year.
Want to multiply your impact? Tell a friend or family member about CleanChoice Energy.