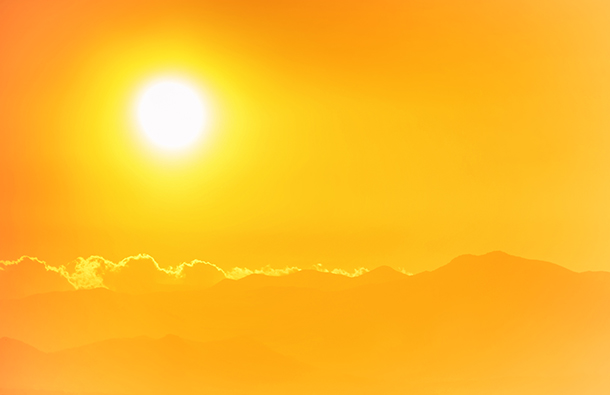 It may already feel like summer in places in this country, but the calendar reminds us that it's technically still spring, at least until June 1st, the official start date of summer.
Much of the country missed spring weather, going straight from dreary cold winter weather into summer-like heat. So, what can we expect from this summer when it gets here? And what's in store for hurricane season, which also begins the first day of June?
Summer Heat Is on Its Way
Average temperatures have been rising measurably for the last fifty years. This means most seasons have been unseasonably warm, though areas including the United States and parts of Europe—continue to experience chilly winters and occasional dramatic winter storms.
While April was one of the coldest since the 1970's for many places in the U.S., 2018's summer is expected to bring the heat. Whether it's a humid or a dry heat will vary based on the region, but all areas are expected to see at least a few dramatic thunderstorms. Beginning this week, much of the Northeast and East Coast have begun experiencing near-summer-like heat already; a trend that may continue for the rest of the spring, though perhaps less dramatically.
With the warming weather comes changes in the behavior of air currents, which in turn changes weather patterns. Both the Farmer's Almanac and NOAA'S Climate Center predict above-average temperatures for much of the Northeast, East Coast, and Midwest this summer.
Storms May Appear, But What About Hurricanes?
Rising temperatures means that more water evaporates. That can have two consequences, depending on location: some places get far too much rain and some get far too little, resulting in strong storms and increasing droughts.
Storms are caused by enormous, complex systems that meteorologists are even now struggling to decode. However, scientists are increasingly certain that climate change is increasing the frequency and severity of some weather events including droughts, floods, heat waves, hurricanes, and heavy downpours (what those in the Midwest call "gullywashers" and others might call "cloudbursts," "turtle floaters" or even "duck drowners").
At the very least, climate change increases the complexity of weather systems, and complex systems are far harder to predict than simpler one; leading to more uncertainty in forecasting and more potentially catastrophic side effects of strong weather.
Hurricane season officially starts June 1, and much of the East Coast and the South will be watching the sea (and the weather forecasts) anxiously for any signs of the same kind of strong storms that ravaged the coasts last year, including the first two major hurricanes to hit the continental US since 2005.
The Climate Prediction Center typically doesn't release hurricane season predictions until the end of May. Early predictions tend to be useless when it comes to measurable results, unfortunately. But climatologists at Colorado State University are going on record as predicting that, while 2018 may have slightly more storms than an average hurricane season, it won't reach the extreme heights that 2017 brought; nor will all the storms turn into full-blown hurricanes.
This Summer, Choose Clean Energy and Make a Difference
While the changes in climate have made weather and weather events like big storms more unpredictable, people can also help reduce the negative impacts of climate change. By switching to clean energy, like solar and wind, we can help push back the rising temperatures and the rising tides. The best way to keep our seasonal weather steady and calm is to use sustainable, environmentally friendly sources of power.
Here at CleanChoice, as a green energy supplier we're working toward a world free of catastrophic climate change with pure air and abundant renewable energy. That's why our mission is to make clean energy accessible to everyone. Learn how to switch your home or business to 100% clean, renewable energy today.