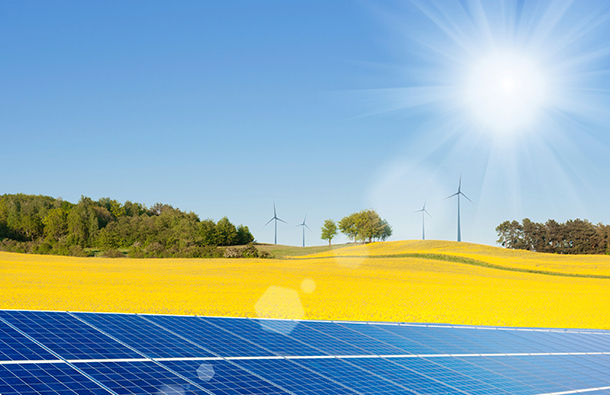 Most Americans agree that renewable energy has the potential to transform a fossil fuel based society into a cleaner, more sustainable one. But, sometimes there's confusion about just what makes an energy source "renewable." Let's dive into this question a bit—and why some renewables rise to the top because they're truly clean energy.
What Energy Sources are Considered Renewable?
Decreasing carbon pollutants, greenhouse gas emissions, and mitigating the effects of climate change make renewable energy an appealing source of power. Under this umbrella of what's often also called "clean energy" is solar, hydro, wind, geothermal, biodiesel, nuclear, and ethanol. Each of these renewable energy sources generate electricity that is more environmentally friendly than coal, natural gas, and oil.
How Clean Are Renewables?
While renewable sources are categorized as clean energy, not every source provides the same benefits in reducing pollutants. Biofuels like biodiesel burns much cleaner than petroleum diesel, But, biofuels may require clearing forests to make room to grow the soybeans and palm oil trees which are then used to create biodiesel. Ethanol, another form of biofuel, is also problematic because producing and burning it results in carbon dioxide emissions. Nuclear energy, though non-emission producing, has many safety, disposal, and waste concerns that can outweigh its benefits. Hydroelectricity harnesses the force of falling water over a dam, for example. Hydro has positive attributes, such as zero carbon emissions. But it also requires building dams, displacing natural water flows and communities, and adding roads and power lines. This results in significant negative environmental impacts. Geothermal power, which uses the earth's natural heat as an energy source, is also less damaging than fossil fuels, but its problems range from difficulty in getting access to the heat far below the Earth's surface, expensive operational costs, and limited range for distribution to due heat loss.
Which Renewables are 100% Clean?
When examining renewables' positive and negative effects on the environment, solar and wind are strong options. Solar power panels utilize sunlight to transform electrons into electricity. The production cycle of solar energy does not contribute any harmful effects on the environment; making solar power a completely green source of electricity. And, the reuse and recycling of solar materials is a growing area, too, closing the loop on sourcing and retiring solar production.
Along with solar, wind power also provides 100% clean energy and does not emit toxins into the air. Through the use of wind turbines, clean energy is generated by solely relying on the technological capabilities of the turbines without the environmental costs of emissions. And, with the staggering advancements in solar and wind technology in recent years, both are getting more efficient and more environmentally friendly every day.
The technology behind solar panels and wind turbines are simple. They both use the nature-made means we already have—sunshine and wind—to create power that is 100% renewable and clean.
To learn more about the production, generation, and positive attributes of solar and wind power, take a look at our other blog post on renewables to learn more.
With increased adoption and technology innovation, the future for solar and wind is bright as they continue taking up greater portions of our energy grid. CleanChoice Energy uses 100% clean, renewable sources from solar and wind. Learn how you can make the switch to renewable energy today.