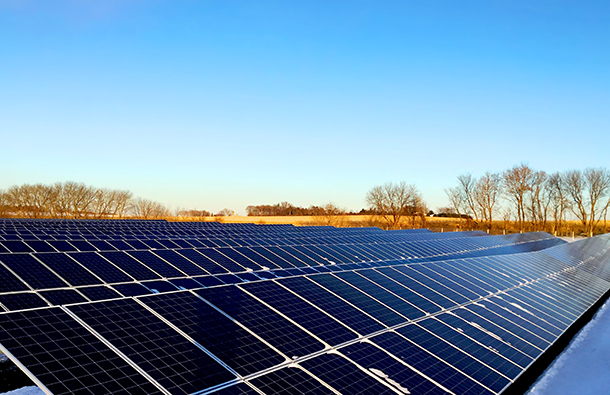 The Bottom Line:
Consumers want to help tackle climate change.
Choosing clean energy for your home electricity is something you can do to make the world a better place.
CleanChoice Energy offers community solar so customers can support clean energy where they live, and potentially save on energy bills.

Consumers want to help tackle climate change. People want to do something to help their families, their communities, and future generations live in a sustainable world with clean air.
How can individuals help make the world a better place? When consumers use their wallets to buy products and services from the companies that align with their values, it can create positive change. When it comes to your home electricity, many consumers now have a way to support clean energy over fossil fuels.
With CleanChoice Energy Community Solar, we offer consumers a way to support the production of 100% clean solar power and reduce pollution—without installing rooftop solar panels. Community solar can also help people save on their energy bills.
What is Community Solar and How Common Is It?
With community solar, a group of households support a centralized solar farm near where they live, instead of individually paying to place expensive panels on their own roofs. Each subscriber receives credits on their utility bill for the energy that's produced on the solar farm.
Community solar can be a desirable option for renters and homeowners who can't get, or don't want, rooftop solar. Besides helping create clean air, it also supports the development of clean energy jobs in the regions where the farms are located, like solar technician.
Many states are currently considering legislation to allow for community solar, including Illinois, New Jersey, New Mexico, Nevada, and Pennsylvania.
Where Does CleanChoice Energy Offer Community Solar?
CleanChoice Energy has community farms in New York, Massachusetts, Minnesota, and Washington, DC.
We have more community solar projects under development, and are evaluating additional suitable locations based on state rules, available sunlight, and other conditions.
What Do Customers of CleanChoice Energy Community Solar Say?
People who have enrolled with CleanChoice Community Solar are excited to be able to support clean, renewable energy where they live. They also love knowing they may save on their energy bills. Here are just a few recent comments from our customers—
I couldn't believe the savings from my normal energy bill. Kudos! –Steve
Clean energy is good for the environment. Billing made easy. –Dean
Clean. Simple. Great idea! –Beth
I hope more people will sign up. We need to take care of our Earth! –Norma
Enjoying saving with solar. Thank you for saving our planet. –Gary
It's just a no-brainer to do this. It's easy to sign up and then you're set to go. –Brian
We enjoy being part of the community. It's nice seeing our utility bill getting offset and we are helping the environment on top of it. I appreciate the easy billing process and that your group took care of everything with our utility. –Richard
It feels good to feel as if I'm participating in something that is more important than ever as climate change becomes more critical. –Katherine
Learn More About CleanChoice Energy
The strength of community solar is it has a lot of benefits. That's why we're planning on offering more CleanChoice community solar in other states, too.
CleanChoice Energy provides 100% pollution-free renewable energy sourced from wind and solar to homes and businesses. Learn more about our community solar offerings today, and find a CleanChoice Energy Community Solar farm near you!
(Photo Description: One of CleanChoice Energy's community solar farms located in Minnesota)