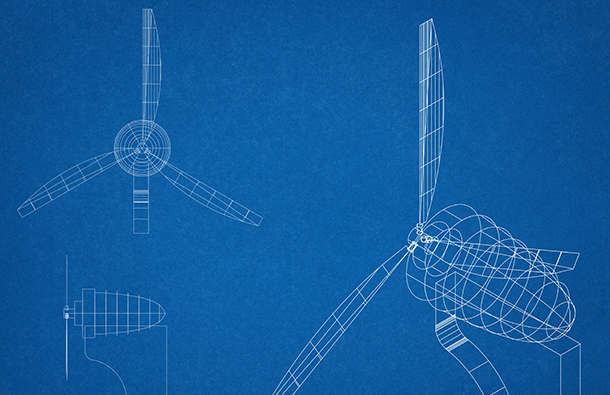 At the heart of wind power technology are wind turbines. Standing high in the sky, sometimes reaching up to 500 feet, these towers use nature to provide electricity for homes and business across the globe.
The clean energy that these immense turbines generate is unlike conventional resources. No greenhouse gases or carbon pollutants are emitted when propellers make them spin, providing 100% renewable, clean power. This combination of clean air and durable power makes wind energy a win-win. With wind energy boosting economic growth for the regions that produce it, turbine technology is constantly evolving and being enhanced.
What's New in Wind Turbine Design
In most industries, innovative designs are often the result of observing genius found in nature. Not surprisingly, nature has inspired new wind turbine designs, too. For example, owls have been the model for how turbine blades can be made even more aerodynamic. Owls provide the perfect model because they fly so quietly they can't be heard by their prey. How do owls accomplish this? Well, their wings are slightly porous, which allows owls to fly through the air while suppressing their noise. Thanks to a mathematical model that has addressed the pressure distribution from the wings, researchers are developing ways to apply this fascinating design to wind turbines blades.
A new vertical axis wind turbine, which is egg beater shaped with three vertical vowed blades, could be a design used almost anywhere across the ground-mounted micro wind sector. Features include turbine towers without the need of a crane, a solid spinning shape, low cost, and low impact installation.
One company is doing away with the idea of turbines wings and even the idea of wind farms. Google has developed and tested turbines that have no blades, and also fly in the air. These flying turbines, which look similar to a glider or an airplane, can float hundreds of meters in the air, where they capture energy from much stronger and consistent wind currents. Once this device is launched and rises into the sky, small propellers turn rapidly in the wind and produce electricity, which is sent back down its tethering cable.
Aside from these innovative designs, wind turbines are being installed in locations that go beyond their typical geography, which is on land. Wind towers most often stand onshore in wind farms, but now wind turbines are floating on our oceans. Recent studies have found that these type of offshore wind turbines could provide an immense scale of energy by harnessing the wind currents over the oceans. Placing wind propellers above the water allows them to capture greater speeds of wind, about 70 percent higher than on land. What's even more exciting for wind technology over the oceans is the transfer of powerful wind energy from high altitudes. In the North Atlantic, the magnitude of energy that turbines can provide is enough to power two countries and possibly the world on an annual mean basis.
With wind engineers finding inspiration from anywhere and everywhere, it's no surprise that wind technology is advancing faster than you can keep track. Keep an eye on wind power—it's one of the major renewables that will power our future.
You can support wind power and make the switch to clean energy today. CleanChoice Energy supplies customers with 100% renewable energy. Learn more about how to make the switch today.