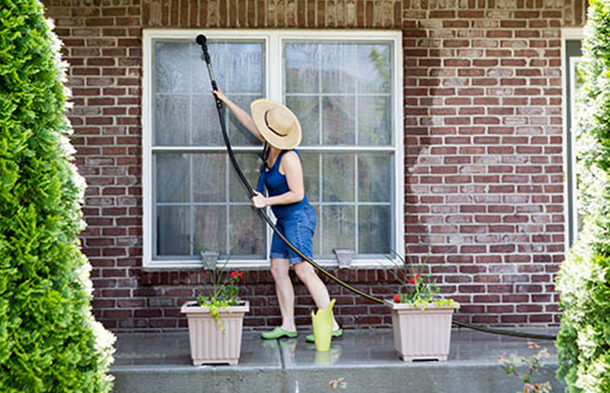 Spring is here, and for many that means giving the house or apartment a good cleaning. While you're at it, try these simple actions to make sure your clean home is as comfortable and energy-efficient as possible:
Have your heating/air-conditioning system serviced.

According to the U.S. Department of Energy, r

outinely replacing or cleaning your air filters will not only keep your air cleaner, but can lower your heating and cooling system's energy consumption by up to

15 percent, as well

. Get a professional maintenance check to ensure your system is working at maximum efficiency.




Change the direction of ceiling fans.

The single biggest energy gobbler in summer is often air-conditioning. One way to get more out of your air-conditioner but still pay less is to install ceiling fans. These big fans allow you to raise your thermostat up to four degrees, allowing you to use less energy yet stay cool. In summer, make sure ceiling fans spin counter-clockwise to circulate cool air.




Clean air ducts and vents.

Cleaning out all that accumulated winter dust and dirt makes it easier on your lungs and your cooling system. You'll save energy and may even increase the system's lifespan.




Seal air leaks.

Caulking, sealing and weather-stripping cracks and openings around windows, doors and any other openings keeps the cool air in, the warm air out, and the cash in your wallet.




Install window treatments.

When the rays of the summer sun beat on your windows, they heat your house like an oven. Energy-efficient window treatments or covering such as blinds, shades and films deflect a lot of that solar radiation. This helps keep your home cooler and reduces costs while making your home look nicer.




Switch to energy-efficient lighting.

Old-fashioned incandescent light bulbs waste 90 percent of their energy producing heat and can reach up to 300 degrees. Swapping out your incandescent bulbs for compact fluorescent (CFL) or light-emitting diode (LED) bulbs will not only keep your home cooler but will save energy and money over time.

ENERGY STAR-rated LEDs

use at least 75 percent less energy and last 25 times longer than incandescents.




Seal ducts

. Leaky air ducts mean you're cooling your attic or your crawl space instead of your rooms, wasting as much as 30 percent of a cooling system's energy consumption. Sealing and insulating ducts makes it easier for your air conditioner to keep your home cool.




Get out your duster

. Dust keeps electronics and motors from running at top efficiency. Dust off light bulbs, office equipment, electronics, and refrigerator coils.




Clean the sliding door track

. If your home has a sliding glass door, clean out the track. Dirt and grit in the track can ruin the door's seal and create gaps where heat or cold air can escape.




Check the fridge's door seal

. Your refrigerator uses up to 11 percent of your home's energy, so make sure the seals on your refrigerator and freezer doors are clean and tight.
Small changes like these can make a big difference in your home's energy consumption, comfort and cost. If you'd like more energy-saving tips and information on how you can choose clean energy, subscribe to our blog below.